Hanoi plans to install an additional 70 air monitoring stations to improve air quality, according to the municipal Department of Natural Resources and Environment.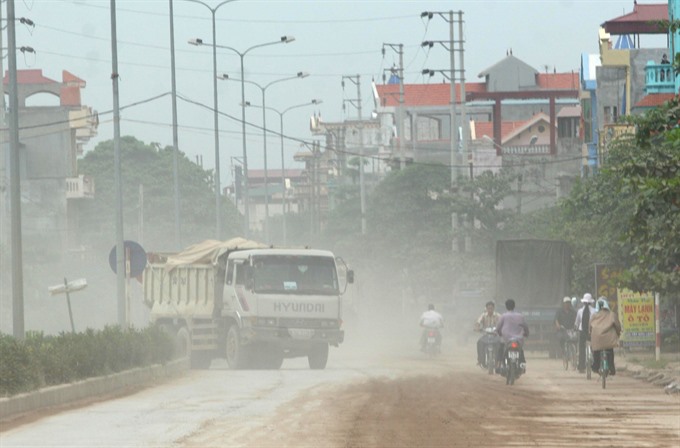 Air pollution remains a challenge in Hanoi.
The department will work with the Consultant-AirParif Agency of France to invest in the installation of the air monitoring stations and to continue implementing the Technical Assistance Project for Assessing the Air Environment Status in Hanoi, signed between the two agencies in 2016.
Department director Nguyen Trong Dong said the department had been operating 10 air monitoring stations funded by the Consultant-AirParif Agency. However, the stations did not entirely reflect the real air quality of the city.
Vice chairman of the municipal People's Committee Nguyen Tha Hung said environmental pollution remained a challenge in Hanoi.
Slow implementation of investment projects for environmental protection, together with low public awareness of environmental protection and underdeveloped production technology, affected the environment's quality, he said.
In addition, rapid urbanisation and massive construction activities across the city, together with increasing number of vehicles, also contributed to air pollution, he said. 
Monitoring results show that many areas in the city have a high level of air pollution, such as Ha Dong, Hoang Mai, Cau Giay and Tu Liem districts. The level is particularly high at craft villages.
The level of benzene has been increasing each year due to the increasing use of fossil fuels in vehicles, Vietnam News Agency reports. Results from air monitoring stations show that the concentration of benzene at areas where these stations are located are 1.2-2.5 times higher than the permissible level.
To help improve the city's air quality, apart from installing more air monitoring stations, the department will also increase supervision of environmental protection activities and ask large-scale projects and production establishments that release waste to install automatic monitoring stations and transmit the results to the department for examination and supervision, according to director Dong. 
VNS