VietNamNet Bridge – Prof., Dr. Bui Chi Buu, former director of the Institute of Agricultural Sciences for Southern Viet Nam, speaks to Viet Nam News about the agricultural challenges facing the Cuu Long (Mekong) Delta and measures to cope with them.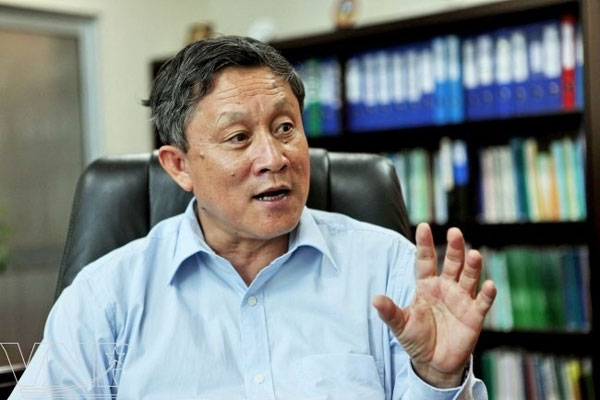 Prof Dr Bui Chi Buu, former director of the Institute of Agricultural Sciences for Southern Viet Nam
What challenges does agriculture in the Mekong Delta face today?
There are three major challenges for agricultural production in the Mekong Delta now.
The first is small scale of production as a result of which farmers have disadvantages. 
Secondly, climate change is becoming more severe, with saline intrusion and drought becoming more serious in the dry season and rainfall being extremely abnormal.
Thirdly, we are in the process of economic integration with many countries. And during the integration process, if we do not prepare well, our farmers will suffer a lot.
How can we address these challenges to ensure stable production and thus food security?
For these three challenges we have three solutions to take note of.
The first is reorganisation of agriculture in the direction of co-operation, with farmers having to co-operate with each other first and then with businesses.
We have a very important document – the Co-operative Law No 23/2012 (which specifies the establishment and organisation and operation of co-operatives and co-operative unions). If we actively deploy this, we can bring farmers together.
In the delta, farmers have mobilised but into production groups and groups in which members contribute funds to do business with each other, but they are still at a very small scale. The relationship between farmers and businesses is hard to explain because contracts are casually cancelled if prices change and benefit either side.
Reorganising production will help fully resolve many problems from inputs to processing and consumption and helping cut production costs.
The second solution, in the face of such severe climate change, is the immediate use of bio-technology. Using traditional methods to create new rice varieties will take a long time, say 10 years or more.
But if we use bio-technology, the time needed for the task can be reduced by two or three times. And with bio-technology, we can create new varieties that are resistant to drought, saline intrusion, flooding, and even heat.
The third solution is to enhance international linkages, especially with ASEAN [the Association of Southeast Asian Nations] and APEC [the Asia-Pacific Economic Co-operation] members.
Economic integration will offer great opportunities for us. Opportunities come but we have to be proactive. If we do not take the initiative, do not prepare the legal framework and technical barriers, we will face disadvantages.
These alliances offer opportunities for us on the condition that we are very active, alert, smart in our policies.
As you said, bio-technology is very important for creating new varieties of rice and other crops. What is the status of bio-technology in Viet Nam?
Viet Nam as well as the rest of the world is facing energy and food crises. Many measures have been suggested to address them, including a second green revolution through the use of bio-technology.
Viet Nam has been involved in bio-technology since 1995, with sponsorship from the Rockefeller Foundation for human resource training. From 1995 to 2005, we have enough personnel capable of undertaking key tasks in the country's bio-technology development.
In human resources training, we have moved to the second phase targeting quick access to new technologies, including research into the genomes of major plants such as rice, corn, soybean, and sugarcane besides poultry and pigs.
We have made great use of [technology] to create new rice varieties with the help of molecular markers that mark salinity/drought tolerance genes and other specific traits.
We know very well how to create genome maps and maps for hybrids. So far 10 rice strains have been developed this way. It was the same for corn and soybean.
We have laws that allow cultivation of genetically-modified crops as well as for ensuring bio-safety, bio-diversity, and careful studies of risks in genetically modified crops [before allowing them to enter the market].
The Government has allowed the cultivation of GMO corn and soya. Of these, six GMO corn events have been approved for food and animal feed and have a total cultivation area of around 5,000ha, and this area expected to expand in future.
We send many doctoral and post-doctoral students to learn epigenetics and gene-modifying technologies to create complete plant varieties with targeted traits.
At present we are very focused on nutritional quality to add more value. 
VNS