VietNamNet Bridge – Some 15ha of agriculture land and farm produce of 50 households in Nam N'Dir Commune, Krong No District, Dak Nong Province, was lost in a landslide in Krong No River.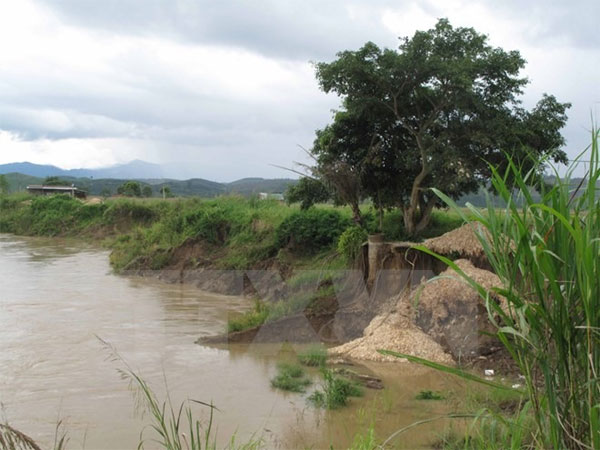 A landslide threatens lives and production of farmers living along Krong No River. – VNA/VNS Photo Anh Dung
According to the provincial Department of Natural Resources and Environment, along Krong No River, which is located on the border of Dak Nong and Dak Lak provinces, there are 19 land erosion spots covering a length of 8.5 km in total and spanning over five communes of Quang Phu, Dak Nang, Duc Xuyen, Nam N'Dir and Buon Choah. 
Each landslide spot is five to 30 metres wide and five to 10 metres deep. 
Nguyen Van Dong, a local of Nam N'Dir Commune said, "I lost nearly one hectare of agriculture land due to the landslide. A 50-square-metre hut with farming devices also collapsed into the river."
Tran Thi Thao, a nearby resident, is also worried that her house may collapse anytime. Farmers grow grass along river banks to avoid erosion but it does not work, she said, adding that many households have moved to other areas.
"My family cannot afford to buy land so we have to stay here," she said.
According to the provincial Department of Natural Resources and Environment, the landslide occurred due to overexploitation of sand. 
Water released from the Buon Tua Srah hydropower plant has altered the flow of the Krong No River. This has resulted in changing the geological structure of the river bed which has weak geology and has caused erosion of the land.
The department has proposed suspending operations of Xuan Binh, Phu Binh and Quynh Mai companies in the eroded areas while stepping up inspection and supervision on sand exploitation in landslide areas and imposing fines for violations.
Dak Nong Province's authorities have asked the Buen Kuop hydropower company to manage water flow without sudden release.
The hydropower and sand mining companies must assess damages to evaluate compensation for residents affected by the landslide.
With the aim of providing long-term solutions, authorities of Dak Nong and Dak Lak provinces will co-operate to manage sand exploitation in the river and conduct studies on building an embankment at the eroded areas. 
VNS