VietNamNet Bridge – An unnamed stream runs sinuously around an orange garden owned by five households in Pha Village.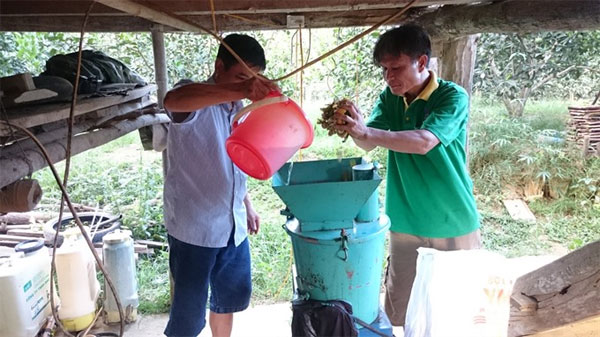 Orange peels are cut into pieces before being distilled to make essential oil right inside the garden. 
It is a pretty sight now, but this was not the case all the time.
The owner of the biggest plot in the garden, Thai Ba Truong, 57, remembers the pollution and stench during the rainy season as all unusable oranges dumped by farmers into the stream rotted.
Residents of the village in Nghe An Province's Con Cuong District would then long for another big rain to wash all of the rotting waste into the local Lam River.
"We would throw all the fallen, the dried, the ugly and the bruised fruit. We did not know what else we could do," Truong said, adding that from his four-hectare plot alone, he would throw around a tonne of such oranges away.
During that time, it was not just the stench, the maggots and insects in the area that bothered the farmers, it was also a feeling of sadness, seeing the literal fruits of their hard labour rot, day after day.
But the ugliness and sadness is set to be thing of the past, starting this year.
There is no orange rotting in the stream now, because the growers have found a way to make full use of what they used to trash. Not a single orange has been thrown away this year, literally.
Last year, of the 150 households in Pha Village who grow orange, Truong and four others were selected to join in a project to grow organic oranges and generate more value from them.
The project is being implemented with support from the Japan International Co-operation Agency (JICA), in co-ordination with the Viet Nam Rural Industries Research and Development Institute.
Under JICA's project for livelihood diversification through heritage tourism in remote agriculture and fisheries villages, Truong and other growers were provided with equipment to produce essential oil, a system to dry peels to make jam, an alcohol filter and machines to cap and date bottles.
All the fallen, dried and ugly oranges now become soaps, essential oil, jam, chocolate ingredient, liquor or syrup.
"Instead of throwing away the products of our sweat and tearse, we now can make more benefit from such orange products and keep the environment clean," Trường said.
Added value
Tang Ngoc Son, leader of the project's five-member group, said that all products made from orange were in great demand, creating extra value for the farmers.
"Before, we only could sell selected oranges for VND30,000-50,000 (US$1.3-2.2), but now, everything is money," Son said.
The peels of fallen oranges are cut into pieces and distilled into high-value essential oil at the garden itself. The oil has a high value of VND4-5 million ($180-220) per litre. Son said that about 70 kilos of fallen oranges would make 18-20 kilos of peels, which can be distilled to 200ml of essential oil.
"That already makes VND1 million, much better than just throwing them away," he said, adding that the peels would also be dried to make jam.
The pulp of a dry orange is juiced or fermented to make syrup or liquor. Son estimated the investment for a batch of 60 liquor bottles at VND1.2 million, fetching a handsome price of VND2.9 million.
"Also, the production does not require hard work. It is easy to operate and it creates stable jobs for people in our families with monthly income of VND7-8 million," Sơn added.
Last season, his four hectare orange garden earned revenues of VND650 million ($29,000) from orange and orange products, helping him renovate his house into the most spacious one in the village.
Son said many households in the village have expressed their interest in joining the project after seeing Son's group succeed.
Dao Xuan Mui, a JICA project advisor, said that project's greatest success was to help reduce environmental pollution as well as the huge amounts of waste generated in previous years.
"When we studied the area three years ago, we saw dozens of tonnes of oranges thrown in the stream, which gave us the idea to start the project. Now the growers can earn maximum money from their oranges," he said.
Mui, an expert from the Viet Nam Rural Industries Research and Development Institute, said his institute helped train and advise the farmers in making the essential oil, soap and jam, while the Ha Noi University of Technology trained them in making liquor and syrup.
The orange products have since been promoted at fairs, supermarkets and hotels in Ha Noi, Vinh and HCM cities.
Kha Thi Tim, deputy chairwoman of the Con Cuong District People's Committee, said they have plans to encourage more households to join the project to grow organic oranges and expand production.
"We will help to build product recognition and find more markets for the orange products," she said.
As a seasonal construction worker turned into an orange farmer, Truong of Pha Village is full aware of the hardships involved in starting to grow fruits without adequate knowledge, techniques and investment.
But he sees a brighter future ahead.
"In six years of growing orange, this is the only season that I have high hopes getting the utmost benefits."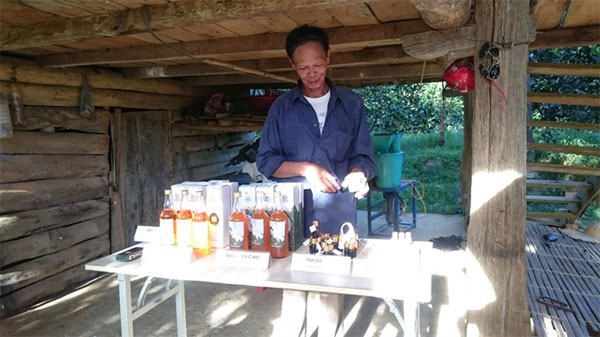 Farmer Tang Ngoc Son presents his group's orange products including syrup, liquor, essential oil and soap.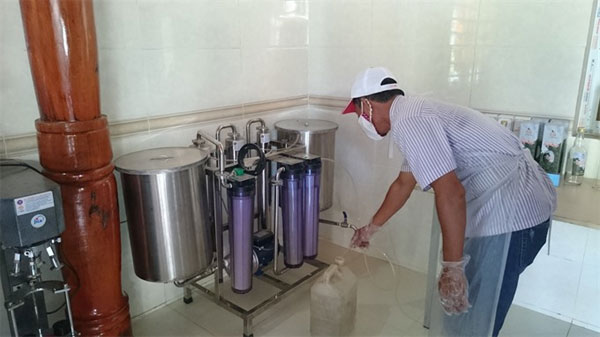 The alcohol filter system sponsored by the Japan International Co-operation Agency. -- VNS Photos Hong Minh
Hong Minh
VNS