VietNamNet Bridge – It has been exactly ten years since an industrial waste water treatment station was built in Tan Trieu Village in Ha Noi's Thanh Xuan District. However, the plant has not operated for a single day, while residents who make their living weaving, dying and recycling, are forced to treat the waste water by themselves.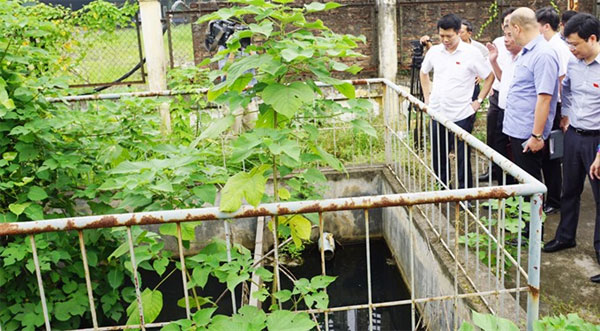 A waste water treatment station abandoned for a decade in Tan Trieu industrial cluster, Ha Noi. - Photo kinhtedothi.vn
In Duyen Thai lacquer village in Thuong Tin District, a waste water plant was also built in 2008 but has yet to be operational because there is no maintenance budget.
The majority of the 63 small-scale handicraft villages in the capital city have no waste water treatment stations. Many are located in densely populated residential areas, Kinh Te Do Thi (Urban Economic Affairs) newspaper reported.
Ha Noi has 43 industrial clusters in operation, 19 of which do not have waste water treatment stations. Among 24 plants already built or to be built, four are old and no longer operationally secure. Five others are completed but have not been put into operation, according to a recent inspection conducted by Ha Noi's People's Council.
Nguyen Nguyen Quan, head of the Urban Department of the Ha Noi People's Council and head of the inspection team, told Kinh Te Do Thi newspaper that progress in waste water treatment projects at industrial clusters remains slow. 
Some projects have completed construction of one part of the system, however, others are suspended due to a shortage of investment. These include the Ngoc Son station in Chuong My District and Phuc Thinh station in Son Tay Town.
Deputy director of the capital city's Construction Department, Dong Phuoc An, said enterprises in industrial clusters do not cooperate with investors to connect the cluster's system with general waste water treatment systems.
Some businesses, which release large amounts of waste water, have their own treatment systems approved by the city. In some other plants, due to flawed planning, the systems' operational capacity is lower than their designed capacity.
The inaccurate calculation of designed capacity results in ineffective use, even wasted investment by city authorities, said Vu Ngoc Anh, deputy head of Urban Department.
Management overlap
Responsibility for the shortcomings lies with both enterprises and local authorities, he said. In some cases, authorities are lax in their management and oversight, resulting in the crippling of already built stations.
To reach the target of having 55.8 per cent of industrial clusters equipped with waste water treatment plants by the end of this year, and 100 per cent by 2020, the city launched a project for the construction of waste water collection and treatment stations between 2016 and 2020.
However, deputy director of the capital city's Construction Department Dong Phuoc An explained its implementation was hampered by overlap in management responsibilities among agencies.
Infrastructure and technical investment is the responsibility of the Department of Industry and Trade, while the Department of Natural Resources and Environment is in charge of water release inspection. This department's inspectors and authorities at district level are responsible for imposing penalties on violations.
Nguyen Nguyen Quan, head of Urban Department, said the department has submitted proposals to Ha Noi's People's Committee to address the problem. Accordingly, authorized agencies should be charged with reviewing the investment efficiency of waste water treatment projects and study measures to manage the station's operation. Local authorities must supervise construction deadlines. Ineffective investors must be replaced by more qualified ones.
The treatment stations that are not operational must be upgraded for use to avoid waste. Adjacent small-scale industrial clusters lacking treatment stations must work together to build a common waste water treatment plant, he said. 
VNS