VietNamNet Bridge - Along Huong River, from mountain to estuary, the environment is at risk of being disrupted by natural disasters and urbanization.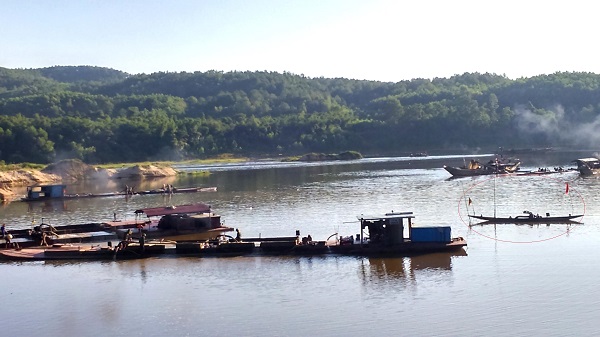 With its geographic characteristics, Thua Thien Hue has played an important role in the development of Vietnam. 
More than 350 years ago, on the banks of the Perfume River, there was an urban area called Kim Long-Kieng Hue, the capital of Dang Trong kingdom (an area of Vietnamese southwards expansion during the 17th century Trinh–Nguyen War). 
The urban area became the capital city of Vietnam under Tay Son and Nguyen dynasties and then an important city in the central region. 
Since its foundation, Hue has always been associated with the Huong River.
The river plays an especially important role in many aspects: it served as the backbone to link the citadel with the temples and tombs in the West and commercial areas in the east. 
Along Huong River, from mountain to estuary, the environment is at risk of being disrupted by natural disasters and urbanization.
The river also served as natural trenches to protect the south face of the citadel, as the waterway link to connect the capital with the regions. Therefore, most of the important architectural works of ancient Hue were associated with Huong River or tributaries. 

Aware of the importance of the priceless heritage left by the previous generations, the Thua Thien-Hue provincial authorities and people have made great efforts to preserve and promote its value. 

Many measures have been applied to protect and to beautify Huong River and its tributaries. Embankments have been built on Dong Ba, An, Thien Loc Rivers and a section of Huong River. Tens of billions of dong have been spent to relocate hundreds of households and improve the landscape for many areas.

However, Huong is in danger because of pollution and the abuse of landscapes. It is being affected erosion and sedimentation. The rapid urbanization with the appearance of construction works and sand overexploitation are harming Huong River and its landscapes.

Hue Historical Relics Conservation Center in collaboration with the Heritage Institute of Waseda University (Japan) organized important seminars to discuss the measures for the conservation of rural and urban environment of Hue. The provincial leaders at the seminars called on scientists to suggest the solutions to develop Hue urban area in a sustainable way and harmonization between cultural heritage conservation and economic development.

Some solutions to conserve and develop Hue have been suggested based on the principles of respecting the original urban structure of Hue; respecting the unique ecological system of Hue; and respecting traditional technology to develop Hue in a reasonable way.
RELATED NEWS
Five must-try dishes in Hue City
Abandoned park in Hue becomes famous
Mai Thanh