VietNamNet Bridge - Mekong Delta, the rice granary of Vietnam, is facing three challenges due to the impact of climate change, unsustainable development and hydropower plants on the Mekong River, according to Nguyen Huu Thien, an independent expert on Mekong Delta ecology.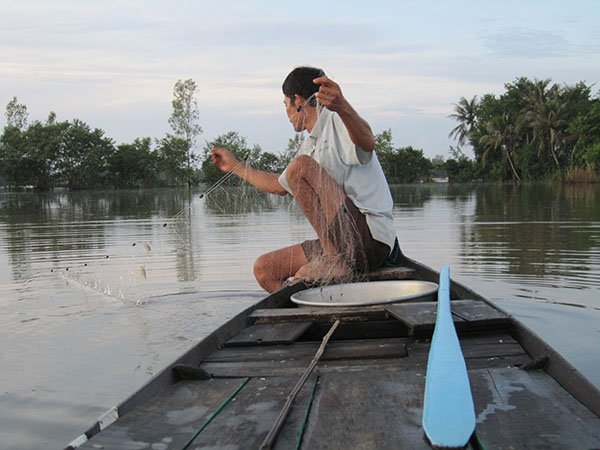 Over the last 20 years, large areas in the two 'water bags' of Dong Thap Muoi and Long Xuyen Quadrangle have been enclosed by embankments to serve rice cultivation. Local authorities decided that farmers needed to cultivate three rice crops a year instead of two to have higher income. 
Just within 11 years, in 2000-2012, the third-crop area in four provinces of Kien Giang, An Giang, Dong Thap and Long An soared by seven times, from 53,500 hectares to 403,500 hectares. In 2017, the total third-crop area in the flood season in the entire delta reached 810,000 hectares.
However, while the embankments helped local farmers cultivate one more rice crop, they caused more severe floods in the lowlands because a large volume of water is kept outside the embankments and goes to the lowlands and to the sea.
Meanwhile, in the dry season, Dong Thap Muoi and Long Xuyen don't get water, which can help neutralize salinity. As a result, coastal areas have suffered from increased saline intrusion.
According to ICEM, the increase of the area enclosed by the dyke system in Long Xuyen Quadrangle has reduced the flood absorption capacity of the region from 9.2 billion cubic meters in 2000 to 4.5 billion in 2011. 
The closed dykes in Dong Thap Muoi and Long Xuyen Quadrangle have increased the water level by 5 cm in Can Tho City and 3 cm in My Thuan.
The closed dykes in Dong Thap Muoi and Long Xuyen Quadrangle have increased the water level by 5 cm in Can Tho City and 3 cm in My Thuan.

The 3-rice crop regime has also led to the exhaustion of natural aquatic resources, an important source of nutrition for rural residents and income for poor people with no cultivation land.

As dykes prevent water from entering the fields, quality of the soil has deteriorated. Scientists warned that the soil will be depleted of nutrients, which will require higher cultivation costs.

IUCN's 2014 survey in Dong Thap showed that a 5-member family growing three crops on an area of less than one hectare would not earn enough money for living and would have to leave the land.

Another research study found that if farmers cultivated 3 crops on 1 hectare for 15 years, they would incur a loss of VND47.8 million. In other words, the 3-crop regime makes farmers poorer.

Meanwhile, Ultrectch University has warned about the subsidence caused by underground water exploitation. 

In the 1991-2016 period, the Mekong Delta saw subsidence of 18 cm. The current subsidence rate is 1.1cm per annum. The figure is 2.5cm in some areas, or 10 times higher than the rising sea levels.
RELATED NEWS
Mekong Delta during the flood season
Land subsidence, rising seas threaten Mekong Delta
Kim Chi