VietNamNet Bridge – The central province of Quang Nam will check on the illegal logging of 110ha of protected forest in Tien Phuoc District's Tian Lanh Commune.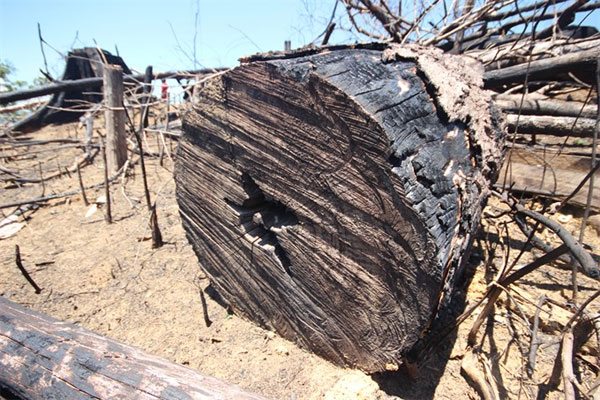 Protection farce: One of the many trees felled in a protected zone in Tien Lanh Commune of Quang Nam Province's Tien Phuoc District. About 110ha of trees were destroyed for acacia farms. — VNS Photo Lan Anh
Head of the provincial secretariat, Nguyen Hong Quang, told Viet Nam News that a delegation, led by vice chairman of the province, Le Tri Thanh, had been checking on the case.
He said the province would send detailed reports of the incident to the Prime Minister.
Local media reported last week that a large area of forest in two sub-zones in the midland commune had been illegally logged so that highly profitable acacia trees could be planted.
Le Minh Son, communal party secretary, said the commune had arrested seven loggers who said they were employed to clear the forest for farming acacia.
Farmers can earn VND70 million (US$3,000) from a one-hectare farm of acacia every five years.
The district, 40km away from provincial Tam Ky City, has 7,000ha of forest, of which 3,000ha is protected.
Chairman of the district's people's committee, Huong Minh, said poor management of forest rangers and weak punishment were the main reasons for a series of forest clearing.
He said three loggers, who were arrested for felling 3ha of forest last year, were only fined VND700,000 ($30) each.
He said the district had commenced proceedings against 28 illegal logging cases in the area between 2013-17.
Last year, 60 rare and endangered Po Mu trees were illegally felled and sawn up for timber.
VNS