Authorities have confirmed a serious case of deforestation has occurred in this northern mountain province, resulting in the destruction of about 80 percent of the special forest areas in Pa Khoang Commune.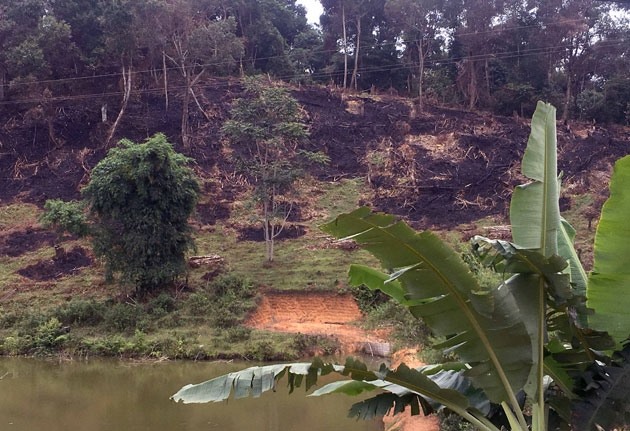 Part of the destroyed forest in Dien Bien District in the northern mountainous province of Dien Bien. The Department of Agriculture and Rural Development of this province confirms a serious case of deforestation has occurred in more than 6,500 sq.m of special forest in Pá Khoang Commune of the district.
The province's Mường Phang Management Board for Forest, Historical vestiges and Environmental Landscape issued a complaint late last month that serious illegal logging was occurring in more than 6,500 square metres of special forest in the commune, online newspaper Vietnamplus reported. In response, the province's Department of Agriculture and Rural Development completed a report on  September 5 and released it to the public on Friday.
The board charged that about 80 per cent of the special forest areas in the commune had been destroyed. Almost all trees with a diameter of 15cm and many others with a diameter of about 20-30cm had been cut down and burnt.
The destruction happened, according to the board, during July 15 and August 4 this year when a company named Tran Le Cherry Blossom sent staff and hired some locals to fell the forest without informing the local forest management board about their work.
Director Tran Le admitted in a meeting with local authorities and the forest management board that he had directed his staff to clear more than 6,500 sq.m of the forest to plant cherry trees. He said they did so with the authorisation of the Dien Bien Province People's Committee.
The company director said a document issued by the committee on July 12 allowed the company to undertake the deforestation in order to plant cherry trees in preparation for an upcoming cherry blossom festival. The festival was intended to promote tourism development in the area.
At the scene of the destroyed forest area, about 480 cherry trees have been planted.
However, at some other working sessions with local authorities, the company director could not provide adequate documents proving his company's actions to destroy the forest areas were done with authorities' approval, especially the decision to convert special forest land into other purposes in accordance with the law.
 Investigation results showed that the company exploited the November 2017 policy of the People's Committee of Dien Bien Province to organise a cherry blossom event to destroy the area of ​​special forest, Vietnamplus reported.
Thus the action of deforestation by the company had seriously violated the regulations cited in Article 12 of the Law on Forest Protection and Development.
The company would be punished strictly according to the law, according to the forest management board. 
The case would be investigated further, the newspaper said. 
VNS