VietNamNet Bridge – After five years of operation, the Bung Rieng landfill in Xuyen Moc District has started leaking wastewater and spreading foul smells in the southern province.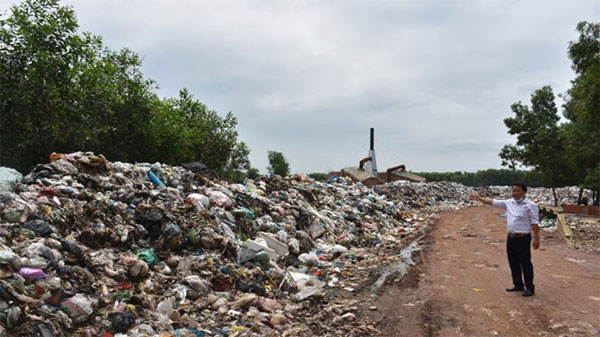 Bung Rieng landfill is covered with unprocessed garbage creating serious pollution. - VNS Photo: Thanhnien.vn
The landfill is overloaded with about 22sq.m of unprocessed garbage, according to a report by the Ba Ria-Vung Tau Province Department of Natural Resources and Environment. Some indicators of COD, BOD5 or nitrite have exceeded allowed limits by 2.8 to 13.7 times.
According to its design, the 4ha junkyard has three chambers and a disposal area with a water collection system, wastewater tank and drying yard.
A leader of Bung Rieng Ward's Communist Party told Thanh Nien (Young People) newspaper that the pollution was obvious. "Since the junkyard was built in the lowland, wastewater is stagnant and then spills over people's land and nearby streams," he said.
The landfill used to be managed by Xuyen Moc District Department of Economic Infrastructure, then handed over to the district's Company of Urban Construction. Because of the increasing amount of garbage, Xuyen Moc District's People's Committee called for sponsorship to build an incinerator.
In October 2016, the People's Committee allowed a private company to construct two incinerators. Since then, the landfill has not been under the control of Xuyen Moc District's Company of Urban Construction.
Due to lack of regulations for paying the incinerator's operator, garbage has not been buried or burnt while trash is dumped there every day.
Le Tuan Quoc, Deputy Head of Ba Ria-Vung Tau Province's People's Committee, has asked related agencies of Xuyen Moc District to collect and transfer garbage at the landfill as well as load unprocessed trash to the concentrated waste treatment area in Toc Tien Ward, Tan Thanh District for processing.
VNS