Cua Dai Beach in Hoi An Town has been restored and attracted many visitors after three years being ravaged by erosion.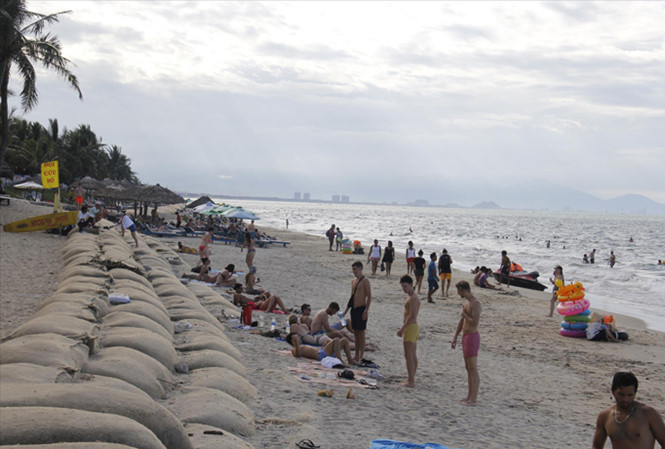 Cua Dai Beach has atrracted tourists again.
In late July, visitors have returned to Cua Bai Beach, playing and relaxing on the 20m-long beach. Ly Thi Ninh, a 50-year-old seller, said she had worked on this beach for a decade and witnessed the eroded beach.
"Since April, visitors starting returning after the beach was refilled. At first, only a few tourists from nearby hotels went out. Then as the beach was enlarged, more people came. Tourists from neighbouring areas also visit more often. The beach is full from dawn until dusk," she said.
Tran Thi Xuong, a 46-year-old seller, said she had to find another job and was thrilled when she can return to the old one. "My earnings aren't as good as before but I'm glad. I didn't think that I can continue selling drinks and snacks under this palm tree here," she said.
Another seller, Nguyen Thi Hoa, said she was glad that the beach hadn't been abandoned.
In order to keep the beach, the authorities of Quang Nam Province have held various conferences to find the most suitable solution. Nguyen The Hung, vice chairman of Hoi An said he wanted to beach to be enlarged even more as Cua Dai Bach, along with Hoi An Town and Cu Lao Cham Island, are the province's key tourism sites.
"In August, Vietnam Inland Waterway Administration will start the project to dredge Cua Dai River and the soil and sand will be used to enlarge the beach. We have urged the government to develop a plan to prevent rapid erosion. We'll also build a detailed plan to deal with the rainy season," he said.
Le Cong Sy, vice chairman of Cua Dai Ward, said vehicles were temporarily banned from going near the newly-filled beach, even public sports activities were also limited. 
There has been severe erosion in Hoi An since 2013 with 20 hectares of Cua Dai beach having been washed away. A 300m section of the beach was eroded by late 2015.
At a conference on Cua Dai Beach's erosion, foreign and local experts agreed that hydropower dams on the Vu Gia-Thu Bon River system might be hindering sedimentation downstream and could be responsible for this severe erosion. The construction of resorts on the beach and the lack of proper environmental assessments before dredging occurred in the estuary have also worsened the situation. 
A VND136 billion (USD6 million) 780m concrete dyke to protect Hoi An was finished in March.
dtinews