The People's Court in the southern province of Ba Ria-Vung Tau announced an appeal verdict forcing 11 businesses to give 33 households VND5.5 billion ($242,000) in compensation for mass fish deaths in the Cha Va river on Tuesday.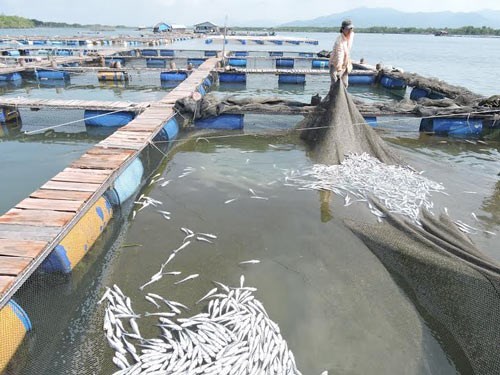 Fish death in the Cha Va river
The highest compensation which a business must pay is VND1.2 billion and the least amount is VND58 million.
In September 2015, hundreds of tons of fish farmed in cages in the river died en masses, causing 33 households in Long Son commune, Vung Tau city tens of billions of dong in losses.
Reports by authorized agencies show that 76 percent of the fish death was due to pollution caused by wastewater release from seafood processing companies in Tan Hai commune, Tan Thanh district, Ba Ria-Vung Tau province.
In December 2016, the Vung Tau city People's Court passed the first instance verdict asking 11 companies to pay 33 households VND13.2 billion ($581,000) in compensation. Afterwards the businesses appealed against the judgement and required retrial.
SGGP