VietNamNet Bridge – Living in the southern-most province of Ca Mau since his life was difficult, Tran Van Xe has spent more than 20 years here or near the area.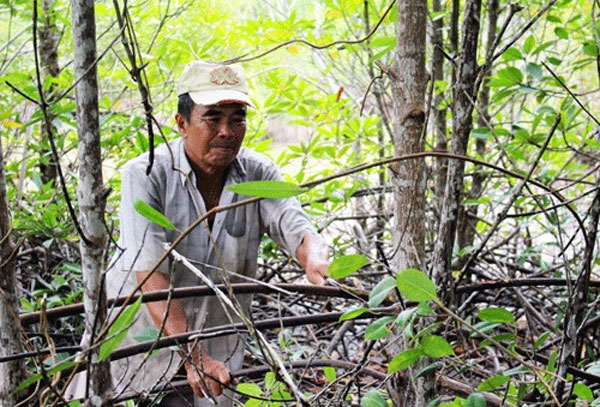 Tran Van Xe has spent more than 20 years of his life to protect and plant trees in the Tam Giang Protective Forest. — Photo danviet.vn
It takes more than an hour by boat from the centre of Tam Giang Dong Commune in Nam Can District to Xe's house.
His house is surrounded by mangroves.
Xe joined the revolutionary resistance war in 1965 and fought in the south. Then he fought in Cambodia and suffered an injury on his right leg.
Xe was discharged from the army in 1990 and since then has lived in Tam Giang Dong Commune.
"My wife and I were issued with 5ha of forest land for cultivation, but at that time the land was neglected and did not have electricity or clean water," he said.
"We felt that we were on a desert island," said Xe.
Xe and his wife cut down trees to build a small hut, and transported clean water from other places for daily use, giving them only one jar of clean water per week.
Another problem was that when the couple started to cultivate, they realised that the land was poor for farming and they didn't have enough capital to improve it.
"In very poor conditions, sometimes we thought about selling the forest land and moving to another place," he said.
But Xe decided to stay and improve the land gradually.
Results
At first, Xe did not have any machines and had to do everything with simple tools. Until 1992, the work was completed basically with a surrounding on his land.
Xe said that at first he caught shrimp in the forest for his daily life, but after the natural shrimps died, he was almost ruined.
Not being discouraged, Xe and his wife planted vegetables and raised poultry.
Xe also raised shrimps and crabs and planted more trees in the forest.
With determination and hard work, his life gradually improved.
"In 1995-96, more and more people began to cultivate the forest. My family's life is more stable and my children can study," said Xe.
"At that time I thought that we were not wrong when choosing the place to settle down," he said.
At present, Xe's average income is hundreds of million dong per year (VND100 million equals US$4,400).
Recently, he harvested 3ha of forest trees, after deducting expenses and handing in part to the forest management board, Xe had more than VND45 million ($2,000) of profits.
Across more than two decade, despite many difficulties, Xe never thinks about cutting down young trees to sell, or widening his cultivation land for more profit.
"I know that the forest is the means of existence of all people, protecting and taking care of the forest is a holy duty," he said.
"The forest supported me in my difficult days, and I understand that planting the forest is protecting our environment, preventing climate change and landslides, so I never exploit the forest illegally," he said.
Xe regularly takes care of the trees, plants more trees in his area and encourages his neighbours to protect the forest.
Truong Ngoc Gom, an official from the Tam Giang Protective Forest Management Board, said despite his hard life, Xe still obeyed the board's regulations, especially in protecting the forest.
"Now his family is a quite rich household in the area," said Gom.
Nguyen Van Nhien, deputy chairman of the Tam Giang Dong Commune People's Committee, said that some individuals had destroyed the forest for short-term profits, but for Xe, living with the forest and being close to the forest was his biggest reward. 
VNS