VietNamNet Bridge – Viet Nam still has 240 pesticide-contaminated locations in 15 localities, causing serious and extremely serious pollution, according to the 2016 National Environment Report.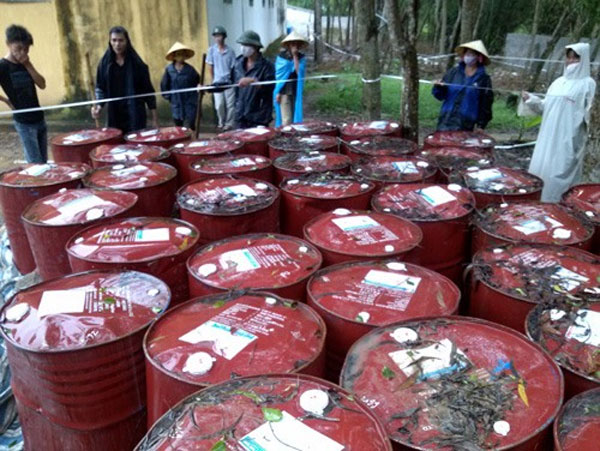 There are 240 chemical-contaminated spots nationwide. — VNA/VNS Photo Duy Hung
The report was recently released by the Ministry of Natural Resources and Environment (MoNRE).
Twenty three of these untreated locations are located in urban areas.
Nghe An Province, central Viet Nam, tops the list of provinces and cities with 10 chemical-contaminated spots.
MoNRE said land environmental pollution in urban areas tends to be serious and extremely serious due to waste from industry, construction, domestic activities and dioxin-contaminated zones.
Chemical-contaminated zones are divided into dioxin-contaminated landfills suffering from the aftermath of the war and the presence of pesticides warehouses.
The report also revealed that at chemical-contaminated zones, soil is polluted with compounds that have high levels of toxic substances. These substances are hard to eliminate, treat or improve.
At seriously-contaminated zones, Lindane level exceeds permitted level by 37.4 to 3,458 times. It is 1.3 to more than 9,000 times for DDT (dichloro diphenyl trichlorothane), more than 218 times for Aldrin and nearly 100 times for DDD (diclorodiphenyl tricloroetan).
Pesticides and chemicals treatment, however, remains slow due to difficulties in budget.
According to the report, dioxin-contaminated zones are mainly in the south, including military airports and chemical-containing zones. A bomb warehouse in Quang Trung Ward and a chemical warehouse in Bui Thi Xuan Ward of Quy Nhon City, the central province of Binh Dinh, were, therefore, moved out of residential areas.
The report also mentioned Bien Hoa Airport in the southern province of Dong Nai as a large dioxin-contaminated zone, which is located to the airport's north and southwest. Some 163,000sq.m of soil has dioxin level of more than 1,000ppt toxic equivalency.
At Da Nang Airport in the central city of Da Nang (quite close to residential areas), there are three dioxin-contaminated zones with dioxin level of more than 1,000ppt toxic equivalency. They are located to the north of the airport with total area of 88,000sq.m. 
VNS