VietNamNet Bridge – Nghe Tinh Metal Color Joint Stock Company will have to pay a fine of VND1 billion (US$44,000) for a dam collapse incident in March and the violation of environmental laws.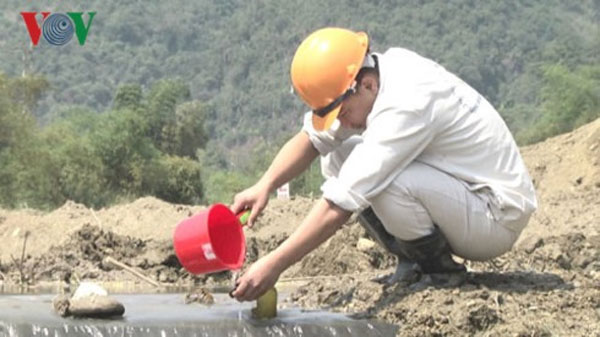 A worker collecting water samples at the dam collapse site in the central province of Nghe Tinh. – Photo vov.vn
The central province of Nghe An's Department of Environmental Protection on Wednesday published the decision made by inspectors of the Ministry of Natural Resources and Environment (MoNRE).
Inspectors had conducted a check at Nghe Tinh Metal Color JSC to see if it was following environmental protection and mineral mining laws after the incident.
On March 9, the dam holding tin waste owned by the Chau Thanh Commune-based Suoi Bac Tin Processing Factory, a subsidiary of Nghe Tinh Metal Color JSC, broke, and a large volume of mud and sewage from the dam flowed down into Nam Huong stream.
Soon after, local fish breeders from the neighbouring Chau Quang Commune reported mass fish in the stream.
Responding to the complaints, Nghe An Province's Party Secretary Nguyen Dac Vinh directed local authorities to quickly investigate, collect samples, analyse pollution levels, and assess the level of violations.
The MoNRE, Ministry of Industry and Trade, and Nghe An Province's Department of Natural Resources and Environment, and Department of Environmental Police inspected the dam collapse site to collect water, mud and waste samples. Test results showed contamination.
Investigations revealed that though Nghe Tinh Metal Color JSC had been doing mineral mining in Suoi Bac area for nearly four years, it had not received certification for adopting environmental protection measures as per the requirements of the Nghe An Province People's Committee. 
VNS