Many large cities in Vietnam are struggling with a slew of acute environmental problems such as air pollution, according to a report on Vietnam's urban environment by the Vietnam Environment Administration under the Ministry of Natural Resources and Environment.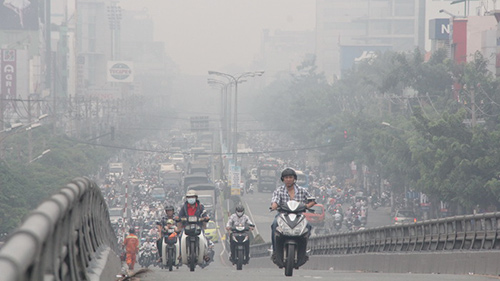 Many motorcyclists wear facemasks to protect themselves from traffic smoke on a road in Hanoi.
Hanoi is the most polluted city in Vietnam as dust concentration is two or three times higher than permitted, especially on the main roads in the city.
Deputy head of the administration Hoang Duong Tung said levels of pollution are different in different cities and depend on city size, population density, traffic density and construction pace.
Traffic, construction and household activities are blamed for air pollution in Hanoi. The capital now has four million vehicles, a key source of air pollution.
An environment report conducted by researchers at Yale and Columbia universities in the U.S. also said Hanoi was among the heavily polluted cities in the world. Other major cities and provinces such as HCMC, Haiphong and Quang Ninh are also mentioned in the report.
Cities discharge 38,000 tons of solid waste a day with an annual growth rate of 12%. The waste is mainly treated by burying and burning but most landfills and incinerators do not meet standards, Tung added.
Air pollution in large cities is also attributed to toxic gases released from the burning of plastic bags. Hanoi and HCMC discharge about 80 tons of plastic bags a day.
Vietnam had 795 cities and towns and the urbanization rate had reached 35% by December 2016 with ever-increasing populations in urban areas. Thus, a person in urban areas throws away a kilo of garbage a day on average.
The administration proposed ways to reduce environmental pollution in cities such as tightening controls and inspections to ensure sanitation at construction sites, on streets and of vehicles.
The administration stressed the need to plant more trees and conducting more checks on vehicle emissions.
Tung proposed the Government improve environmental policies and regulations, encourage investments in solid waste treatment projects and increase the budget for environmental protection to 1.5% of budget spending.
The report also mentioned mass fish deaths on the central coast caused by Taiwan's Formosa Ha Tinh Steel Corporation last April. The company released toxic chemicals into the sea, washing ashore dead fish along the four provinces of Ha Tinh, Quang Binh, Quang Tri and Thua Thien-Hue and polluting marine life.
On June 28, 2016, the company admitted responsibility for the environmental pollution incident and paid a total compensation of VND11.5 trillion, or US$500 million, for economic damage.
According to a report by the administration on the environment in the area after the incident, phenol, a toxic substance in wastewater released from the steel company, fell 90%.
By July 6, 2016, seawater in the area met Vietnamese standards, except for Son Duong (Ha Tinh), Nhat Le (Quang Binh) and Son Tra (Thua Thien Hue). However, seawater quality in these localities improved by September last year.
SGT