The Vietnam Administration of Forestry has signed a Memorandum of Understanding (MoU) with AnimalsAsia on building plans to better protect bears.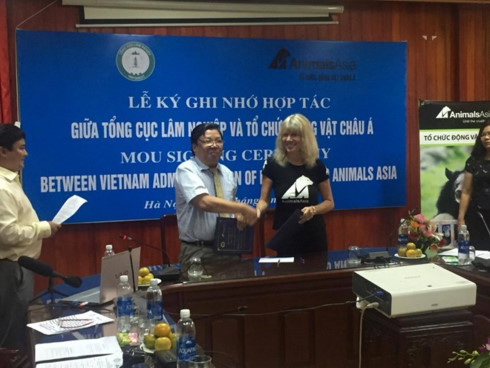 The MoU is aimed at creating favourable conditions for the administration and AnimalsAsia to carry out necessary activities to phase out bear bile farming in Vietnam, increase management of bear raising at rescue centres and preserve bears in natural habitats.
According to the Convention on International Trade in Endangered Species of Wild Fauna and Flora office, some 245 Tibetan bears are being kept at 430 bear farms across Vietnam.
Under the MoU, the two sides will commit to cooperating and working with relevant agencies to increase management of bear preservation nationwide via a series of activities, such as completing bear preservation policies, promoting information dissemination and mass communication to raise public awareness on protecting bears and enhancing the adoption of regulations on managing and supervising bear raising activities.
They will also work to enhance capacity of bear rescue centres and research more activities to protect bears.
Cao Chi Cong, deputy head of the Vietnam Administration of Forestry, said the MoU was expected to help promote coordination activities between the two sides in research and implementing bear preservation activities nationwide.
Jill Robinson, MBE, co-founder and CEO of AnimalsAsia, said cooperation between the two sides was very important. AnimalsAsia would try its best to ensure efficiency of joint activities between the two sides in managing bear preservation in Vietnam.
The country's wild bear population has declined sharply over the past 20 years, according to recent surveys carried out in 22 protected areas.
The surveys were part of a three-year collaborative project by the Centre for Environment and Rural Development at Vinh University with the support of conservation and animal welfare organisation Free the Bears and AnimalsAsia.
VNA