Ho Chi Minh City authorities have agreed to build a large-scale project on producing electricity from waste, aiming to cut the volume of buried waste by 50 percent by 2020.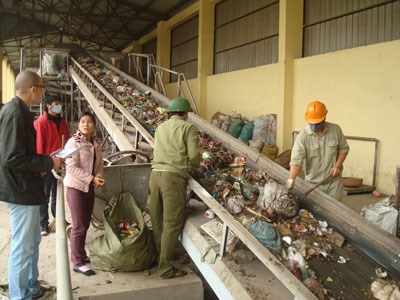 He city's landfills receive 1.5 million tonnes of industrial waste and 8,300 tonnes of domestic waste a day. The volume is expected to increase in the time to come as the city witnesses the growth of its population and economy. 
During a field trip to Go Cat landfill in the city on July 11, which houses a pilot waste-to-power plant, Chairman of the municipal People's Committee Nguyen Thanh Phong acknowledged the project's effectiveness.
However, he asked the municipal Department of Natural Resources and Environment to set up a scientific council to assess the pilot, which will be a foundation for units to build an expanded project soon. 
Investors need to consider management work in the process of expanding the project to avoid causing pollution, he stressed. 
The project, which uses Vietnamese technology, is jointly invested by the Hydraulic Machine Ltd Company and the HCM City Urban Environment One-member Co., Ltd.
According to Nguyen Toan Thang, Director of the Department, the Go Cat landfill received a total of 5.3 million tonnes of waste until it closed in 2007. 
In March this year, the municipal authority approved a plan to build the pilot project. Power produced by the plant was connected to the national grid on April 22, 2017.
The plant has so far processed 500 tonnes of industrial waste, generating 7MW for the national grid.
The pilot project is hoped to promote the transfer of the "made-in-Vietnam" technology in producing electricity from waste to waste-treatment companies in HCM City.
Vice director of the municipal Department of Industry and Trade Nguyen Phuong Dong said under the electricity development plan in 2015-2020, with a vision to 2030, the city aims to produce 100MW of clean electricity from biomass, wind, waste and solar energy.
Increasing the productivity of clean electricity from waste is a must to hit the goal, he said.
VNA