VietNamNet Bridge - The sea area from Khanh Hoa to Binh Thuan, central Vietnam, which is above a coral triangle, has been seriously affected by sludge.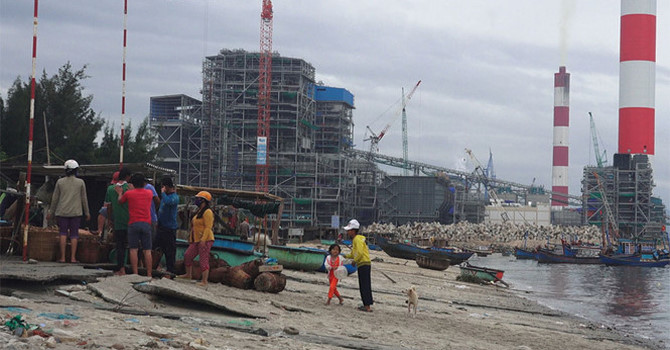 Environmentalists are concerned about the move by the Ministry of Natural Resources and Environment (MONRE) to allow Vinh Tan 1 thermal power plant to sink 1 million cubic meters of sludge in the Binh Thuan sea.
Associate Professor Nguyen Chu Hoi from the Hanoi National University, and president of Vietnam Society for Nature and Marine Environment, is the lead author of the marine protected area (MPA) planning. He said Vietnam signed MDG agreements under which it pledged to cooperate with other countries to build a global MPA system to be protected.
MONRE once hosted a survey program to expand the 16 MPAs and planned to increase the number of MPAs to 25-26 as well as expand the scale of every MPA. 
The sea area from Khanh Hoa to Binh Thuan, which is above a coral triangle, has been seriously affected by sludge.
Hon Cau MPA, for example, was believed to be too small compared with other MPAs in the world.
"If someone wants to declare death for Hon Cau, he must prove that the sea area doesn't need conservation and that Hon Cau is not the core area of the MPA," he said.
Vinh Tan 1 thermal power plant spokesman said that the sludge to be submerged is not toxic and won't pollute the sea. 
However, Hoi pointed out that the waste will cover all coral reefs and spoil the ecological value of the sea.
"This is even more serious than degradation," he said. "The problem here is the impact caused by the sinking, not by pollution."
Meanwhile, Prof To Van Truong, an independent expert, said the report on possible impact on the environment from construction of a new harbor to specifically serve Vinh Tan 1 Plant approved by MONRE's minister did not mention the programmed use of Binh Thuan sea.
Truong believes that around the project's area, there are many spots with sensitive marine and coastal ecosystems. Therefore, it is necessary to be cautious when permitting the pouring of dredged waste, even though the waste doesn't contain hazardous substances.
Truong has raised many questions about the submerging of the waste sludge. If the sludge to be submerged can satisfy environmental standards, why is it not used to level up and expand the swampy and eroded coastal areas? 
It is clear that the submerging of a big volume of sludge will affect marine biodiversity. Has MONRE considered solutions to fix the problem?
Hoi believes that Vietnam should think of exploiting sea potential in another way. At present, Vietnam exploits all the resources of Tien and Hau Rivers, catching 2.4 million tons of fish every year.
RELATED NEWS
People protest against air pollution by power plant
Chinese-invested thermal power plant wants to bury waste at sea
Thien Nhien