VietNamNet Bridge – The portion of Ba Bo Canal that runs through the southern province of Binh Duong has dramatically changed after its clean-up, but not in HCM City, and authorities need to keep a close eye on it if they do not want it sullied again.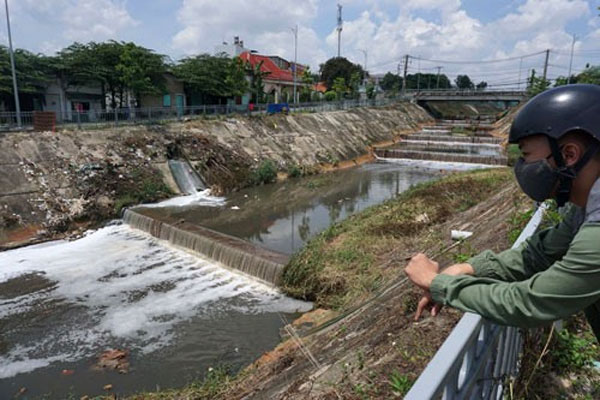 The portion of Ba Bo Canal that runs through HCM City is still polluted with dirty wastewater. 
The canal has been widened and its bank has been concreted with space provided for vehicles and pedestrians.
"The urgent need now is to prevent the wastewater … from factories in industrial parks, plants outside and households from [flowing] into the canal," Nguyen Tam Duong, head of the Economy and State Budget Commission of the Binh Duong Province People's Council told Nguoi Lao Dong (Labourer) newspaper.
He hailed the efforts of relevant authorities so far to keep out wastewater and said more of the same is needed.
"All industrial parks have wastewater treatment plants with automatic measuring system."
The province has an urban wastewater treatment plant, which partially collects wastewater from houses along the canal.
The provincial Department of Natural Resources and Environment encourages local residents to keep an eye on the canal and inform it if they notice its odour or colour change.
Nguyen Van Dung, head of the HCM City People's Council's Economy and State Budget Commission, said a team would soon be set up to monitor the canal.
Cleaning up the canal has taken 10 years and the cost escalated but the pollution is still serious, he said.
A minor portion of the clean-up work remains to be done.
The canal used to be notorious for its pollution and it was hoped the project would improve it. 
VNS