VietNamNet Bridge – Sipping juice in a small café in Ha Noi in early June, Willem Schaftenaar relaxes before his flight home to the Netherlands. Previously, he was busy in Ban Don Village in Dak Lak Province's Buon Don District working with officials of the provincial Elephant Conservation Centre (ECC) to save near-extinct elephants in Viet Nam.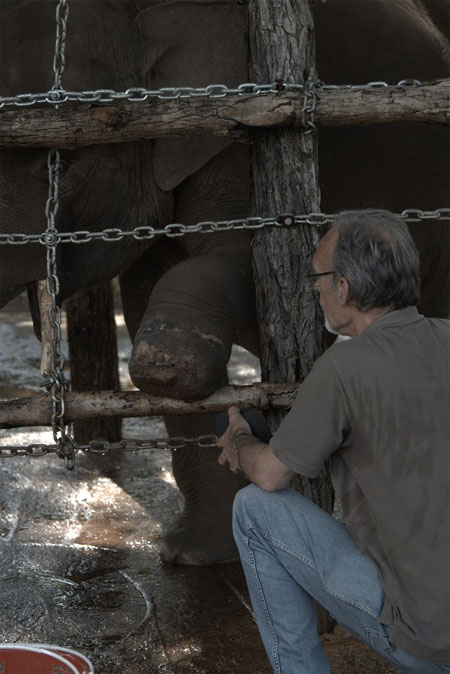 Hard at work: Dr Willem Schaftenaar tried to save 500kg-elephant named Jun in 2015. — Photo courtesy of Willem Schaftenaar
On this trip to Dak Lak, he was accompanied by Vincent Werbrouck, CEO of Pairi Daiza Foundation, a privately owned zoo and botanical garden in Belgium, who is also looking to support elephants in Viet Nam.
Respect for elephants and love of Viet Nam brought them together.
This latest visit marks the fifth time Dr Schaftenaar has went to the Central Highlands, determined to save the near-extinct elephants.
Two years ago a veterinarian who was also one of Dr Schaftenaar's students working at the the ECC told him about an injured elephant in Don Village that the Centre's officials were trying to save. Given the gravity of the situation, the Centre's officials called in foreign experts. Dr Schaftenaar agreed to help and arrived in the village days after.
Previously, he had spent nine years working in zoos in Africa and retired from his work at Rotterdam zoom in the Netherlands.
"I wanted to look for more challenges", he recalled with a smile.
Since then, the seasoned veterinarian has been ally of the shrinking herd of elephants in Viet Nam's Central Highlands.  He has become very familiar to conservationists, mahouts and the elephants in Don Village.
The foreign veterinarian with gray hair taking care of elephants in the summer has moved many locals.
A friend of elephants
Don Village attracts domestic and foreign tourists with its elephant population, often used as a means of transport in some tour packages and raced during festivals.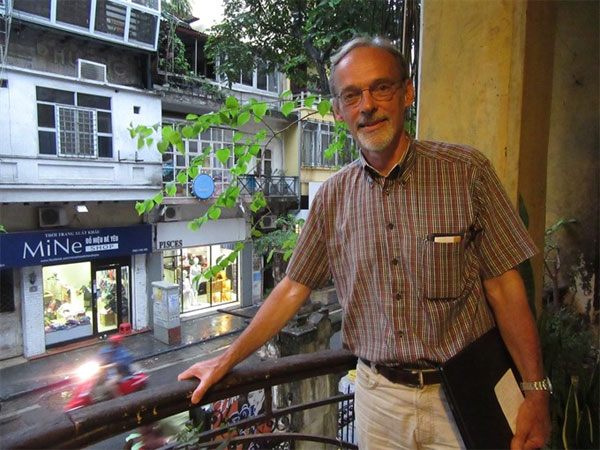 Relaxing: Dr Willem Schaftenaar in Ha Noi in early June after his busy week in the Central Highlands. — VNS Photo Bach Lien
Data from Dak Lak province shows that the local elephant population experienced a sharp decline from 500 in 1980 to just 43 in June 2017.
Dr Schaftenaar said that actually there were only eight captive female elephants which can reproduce.   
He has visited the village five times over the past two years to help local caretakers and doctors treat diseases and injuries on the last tame elephants to prevent them from dying out.
He has also passed on his knowledge and experience to his Vietnamese colleagues at the Dak Lak Elephant Conservation Centre who are in charge of repopulating the dwindling herd. Those elephants face the threat of poaching and infertility in the females.
Even when he is not in Viet Nam, he keeps in contact with his colleagues from the ECC and advises them via email.
"Willem has become a good friend of us. He is a simple, sincere and devoted veterinarian. He has made great contributions to improving the health of Dak Lak's elephants," said Huynh Trung  Luan, the ECC's director.
Two of the elephants he saved are Jun and Thoong Ngan.
Jun had fallen into a forest trap, had ulcers on his trunk and one of his paws was wounded.  Jun could not walk. Dr Schaftenaar stayed for weeks to conduct an operation to remove a large piece of steel trapped inside Jun's foot.
He also operated on Thoong Ngan who was close to death because of criminals who wanted to steal his tusks.
The Dutch expert is not optimistic about the future of Vietnamese elephants, both domestic and wild specimens.
"Elephants in Viet Nam are used for tourism industry and I do not support the way that people ride elephants," he said.
"It is not nice to them"
"And secondly, elephants are social animals, they live in family groups. One female is boss of the group and she lives there with her own calf and sisters. If you have elephant rides, one family only has one or two elephants, so they have no interaction with other elephants. It is a very sad situation for them"
"They can not easily get offspring, because they are used for business, so they have no time for reproduction," he added.
"So if nothing is done, in 20 years, there won't be captive elephants in Viet Nam anymore," he warned.
The ECC recently started construction of a 200ha sanctuary for tourist elephants, 10 kms from Yok Don national park.
To protect the near-extinct elephants, Dr Schaftenaar hopes that local authorities focus on this new sanctuary to set up a breeding centre for captive elephants to protect the endangered elephants in the region and to exploit genetic variations sustainably. 
"At the moment, only eight captive elephants can breed, the others are too old. So we should think of a breeding programme for the long term.  If not, the generic material will be lost".
"Reproduction is very slow, so you have to think far ahead.  If they don't breed in time, genetics will get lost," he said. 
Bach Lien
VNS