The central province of Khanh Hoa is considering allowing a local private firm to preserve and operate its Hon Mun Nature Reserve, one of the most famous tourist destinations in the province.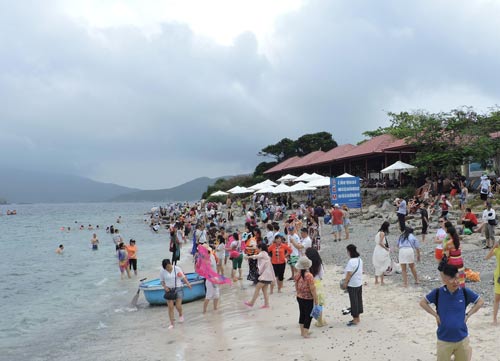 Tourists in Hon Mun 
Earlier in February this year, the provincial people's committee agreed on Hon Tam Nha Trang Sea JS Company's proposal to manage Hon Mun Nature Reserve. The company would also provide eco-tourism tours. 
The company has co-operated with Australia's Reef Ecologic to survey the condition of the reserve.
Dr. Adam Smith, director of Reef Ecologic who has participated in many projects to preserve the marine environment and coral reefs around the world, said Hon Mun had 15 spots shallow enough for tourists to dive and see the coral. He also discovered Anemone.
Dr. Smith, however, said that Hon Mun Nature Reserve was being threatened by harmful creatures, including the crown-of-thorns starfish which use coral as their food. One starfish of this kind can eat up to one square metre of coral per a day, he noted.
Meanwhile, waste and illegal fishing have also damaged the coral. "It takes up to 30 million years to develop a coral reef but it can be destroyed in just six months," Dr. Smith warned.
Hon Mun Nature Reserve is currently being operated by Nha Trang Bay's management board. The board said that many tourists litter the sea and damage the coral reefs.
Doan Van Trang, Chairman of Hon Tam Nha Trang Sea JS Company, said the company will work with Reef Ecologic to work on a preservation plan for the reserve. "We will pay attention to the preservation for the sustainable development because without the coral reefs there's nothing for tourism development. We'll spend the two first years for the preservation work only," he added.
Nguyen Tac An, vice head of Vietnam Marine Science and Technology Association, said the reserve management and operation must be based on the Heritage Law. The province must seek the Ministry of Culture, Sports and Tourism's approval.
Dr. Smith said that it was necessary to restrict the number of tourist boats and travellers to avoid stressing the reserve's environment. Each tourist must be carefully instructed before visiting the reserve.  
dtinews