VietNamNet Bridge - Without the original Son Tra, Da Nang will be just like other sea cities in Vietnam, according to environmentalists who are opposed to tourism development at the site.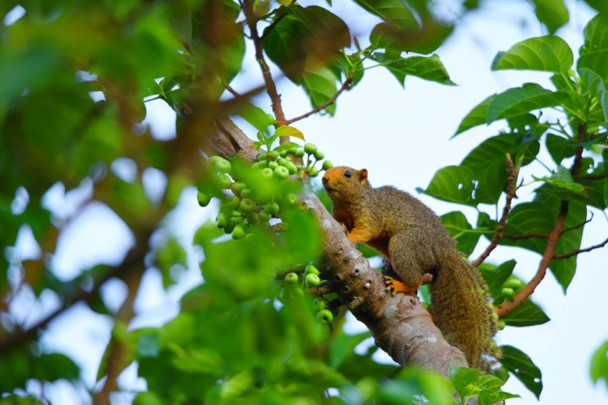 Biodiversity Conservancy International's Chair Dang Trung Phuoc has sent letters to Prime Minister Nguyen Xuan Phuc and ministries, asking not to develop tourism, because this will destroy the characteristics of Son Tra.
"The construction in Son Tra for tourist development will narrow the area of primary forests, causing unpredictable damages to the tourist character," the letter reads.
Phuoc, like many other environmentalists, showed deep concern about the potential extinction of red-shanked douc, an endemic primate species.
Red shanked doucs live on the peninsula of Son Tra, isolated from other inland ecosystem.
Red shanked doucs live on the peninsula of Son Tra, isolated from other inland ecosystem.
The pristine ecosystem on the land and under the sea, and the diversification of plants on Son Tra all create a beautiful Da Nang. 
Phuoc said developing tourism does not necessarily mean building resorts, hotels and markets, especially when the forest of the peninsula is not only small but also isolated from inland ecosystems.
"We, scientists with high awareness of the importance of the ecosystem, environment and biodiversity in life on Earth, highly appreciate the Prime Minister's decision to reconsider the Son Tra development plan amid people's disagreement and for the sake of the unique ecological identity of the peninsula," Phuoc wrote in the letter.
The government in late May demanded a halt to the Son Tra tourism development master plan for three months to review the plan.
When the plan was drafted in late 2013, Son Tra was a hotspot for tourism and the number of visitors increased sharply. 18 projects with 5,000 rooms were approved at that time.
The plan was given approval by Deputy Prime Minister Vu Duc Dam in late 2016 and made public in February.
In his letter, Phuoc emphasized that resorts and hotels won't create original characteristics of Son Tra's tourism. They will spoil the existing points that attract tourists.
He suggests that it would be better to develop tourism by organizing sightseeing tours to protect the integrity of Son Tra. 
The red-shanked douc, which is in danger of extinction, will help attract millions of visitors. This is a good way to promote tourism and prove Vietnam's efforts to protect endangered species.
The sightseeing tours will bring profits which are higher than the profit Da Nang can expect from resorts, and they will make great contributions to hunger eradication and poverty reduction by creating jobs.