VietNamNet Bridge – A fishing village has been illegally expanding on the La Nga River in Dong Nai Province's Dinh Quan District and polluting it despite the local authorities' prevention efforts, the Tien Phong (Vanguard) newspaper reported.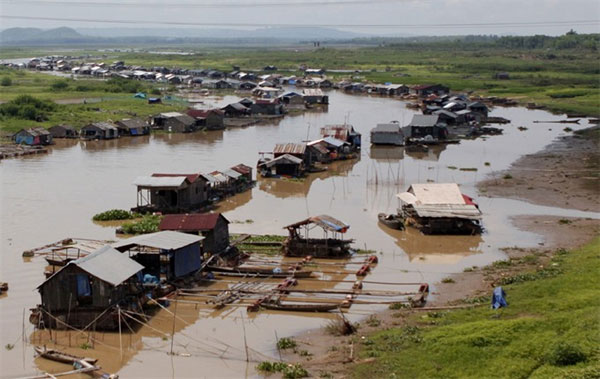 A view of La Nga fishing village from upstream Dong Nai River in the southern province of Dong Nai. 
The La Nga Village was formed in the late 1990s by Vietnamese citizens who had returned to the country after working in Cambodia, and wanted to set up fishery and aquaculture businesses.
Villagers segregated fish farming areas by placing tens of thousands of uncleaned iron and plastic barrels that used to contain industrial additives on the lake, held together by bamboo poles. After two to three years, these barrels started disintegrating and breaking and are replaced with new ones, said a barrel seller by the lake, who did not wish to be identified.
The village is located upstream of the Dong Nai River – a major source of water for millions of residents in Dong Nai Province as well as the southern metropolis HCM City. Local authorities are concerned that the water source is getting contaminated with chemicals from the barrels as well as from waste strewn by villagers living on the lake.
In 1999, the Dong Nai People's Committee decided to create a resettlement area and encouraged villagers to relocate there. Villagers would still be allowed to raise fish in La Nga Lake and guard their farming areas, provided that they don't segregate any more fish farming areas and stop living on the lake.
However, the village has continued to intrude into the lake, expanding fish farming areas on it. Now, thousands of villagers are living right on the lake, discharging domestic waste and fish food residue into it every day.
Despite having received land, Nguyen T and his family continue to live in a house with a metal roof and full facilities above his 100sq.m farming area on the lake where he is raising thousands of pink crayfish.
"Everything we have is lying under the water here," he said. "I have to take care of them every day, so I can't live far away."
Nguyen Van C, 40, and his five-member family have been living on the lake for a decade now, despite knowing that it is not allowed. "There are dozens of households similar to mine living here without land use right certificates and birth certificates for their children," he said.
Statistics from the People's Committee of Dinh Quan District shows 375 households and 768 fish farming grounds on Tri An Lake. Many Vietnamese citizens living overseas have moved back to the district after the province decided to grant land and reorganise fish farming activities.
Currently, there are 6,500 Vietnamese returning from Cambodia and resettling in the district. Conducting a household registration drive in the district is beyond the local authorities' scope of expertise as majority of the residents are poor and don't live on land, said Tran Quang Tu, chairman of the district People's Committee. 
VNS