VietNamNet Bridge – The VND3.3 trillion (US$143.5 million) Cai Lon-Cai Be dual sluice project aims to control saline intrusion and adapt to climate change in Cuu Long (Mekong) Delta Province of Kien Giang. However, experts, managers and residents are uncertain about its impact.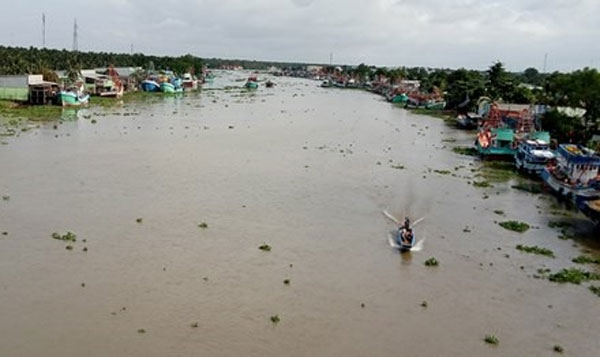 The Cai Be River in Kien Giang Province. — Photo tienphong.vn
Last year, Mekong Delta region suffered from the most severe saline intrusion and droughts in nearly a decade. 
In response, two sluices will be built to prevent saline intrusion to the west and south of Hau River between 2017 and 2020 under the management of the Ministry of Agriculture and Rural Development (MARD).
Huynh Hung Tuan, deputy chairman of People's Committee of Binh An Commune, Chau Thanh District, said that local authorities have not been updated on the project. However, he said that it should facilitate locals' agriculture production.
Meanwhile, Tran Van Danh, a local living along the Cai Lon river bank, is worried that the sluices will raise water levels on the streets and flood houses. Salinity levels outside the sluices will be high and farmers might not be able to plant rice.
Professor Nguyen Ngoc Tran, an expert of Mekong Delta region, said that the location of the two sluices must allow them to co-ordinate operations with other sluices and dams to effectively prevent saline intrusion.
"The project will affect the natural environment, production, livelihoods of millions of people. The impacts of these factors must be taken into consideration right at the project's inception," he said.
According to Associate Professor Duong Van Ni of the Environment and Natural Resources Department, Can Tho University, the sluice gate will close when flood tides rise and open when the tide recedes. 
"However, the west and south of the Hau River is home to two types of hydrology. If sluices are closed during flooding, hydrology strength will be lost. As a result, all waste substances of agricultural and aquatic production, residential areas, industrial zones will have difficulties escaping to the sea," he said.
Review environmental impact assessment
Associate Professor Le Anh Tuan, deputy head of Climate Change Institute under Can Tho University, said that the project would affect the ecology, disrupt water cycle and affect cultivation that relies on tidal ebb and flow.
Tuan urged MARD to review the project's environmental impact assessment, especially on people living on raised aquatic products.
Nguyen Huu Thien, an independent ecological expert, pointed out that the argument about the urgency of a high-cost project affecting a vast area of nearly one million ha is not persuasive enough.
The environmental impact assessment report claims that serious saline intrusion every year causes enormous damage and seriously affects national food safety. Climate change and sea level rise will be extremely serious, and the Mekong Delta region will bear the burden of rice cultivation for the country.
"These arguments are not persuasive. Saline intrusion in the recent years, especially the extreme 2016, must not be the sole cases to base on to make sweeping generalisations about long-term situation and hence the necessity to build an expensive project of the century,'" he said.
The report is based on cursory analysis and does not consider other adaptable solutions such as cultivation system shifts, or even construction of temporary cheaper saline intrusion prevention projects in critical years, he said.
Tran To Nghi, acting head of MARD's Engineering Construction Management Department told the Tien Phong (Vanguard) newspaper that Prime Minister has a plan to build the sluices. However, whether the project will get official approval depends on its environmental impact assessment.
MARD deputy minister Hoang Van Thang said that the Mekong Delta region must balance the costs of climate change, land subsidence, socio-economic development conditions and impacts on Mekong river region.
"Environmental assessment impacts must be done carefully and thoroughly. We must ask for opinions of both domestic and international scientists. In the submission to Prime Minister, MARD clearly stated that environmental impact assessment would be open to collect opinions. The project will be implemented only when environmental standards are met," he said.
Source: VNS