Five Mekong Delta provinces and 11 agencies have signed a memorandum of understanding on cooperation in forming the Mekong Partnership for Climate Resilient Rice Research Network (MPCRR-N).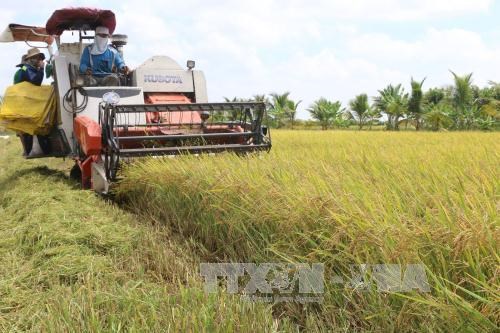 The document was inked at a workshop in Mekong Delta Can Tho city on June 6.
The signatories were the departments of agriculture and rural development of An Giang, Kien Giang, Ca Mau, Bac Lieu and Soc Trang provinces, along with such agencies as the Crop Production Department of the Ministry of Agriculture and Rural Development, the Vietnam Academy of Agricultural Sciences, the Cuu Long (Mekong) Delta Rice Research Institute, Can Tho University, the Integrated Coastal Management Programme, and the International Rice Research Institute.
Dr Dao The Anh from the Field Crops Research Institute said the MPCRR-N will take part in the development of coastal rice cultivation systems in the Mekong Delta in a sustainable and climate- resilient manner.
It will share information about programmes, projects and studies on saltwater- and drought-tolerant rice while also testing these rice varieties. Through this network, those who are interested in saltwater-resistant rice and agricultural value chains in coastal areas will be connected.
Tran Xuan Dinh, Deputy Director of the Crop Production Department, said drought and saltwater intrusion led by El Nino from 2015 to the latter half of 2016 devastated hundreds of thousands of hectares of rice in the Mekong Delta, resulting in a loss of about 1.3 million tonnes of paddy rice.
As climate change is forecast to happen faster and more strongly, millions of rice farmers in the Mekong Delta – the rice hub of Vietnam – will fall into poverty if adaptation solutions are not swiftly carried out, he added.
MA Pham Trung Kien from the Mekong Delta Rice Research Institute said regional provinces lack information about drought and saltwater tolerant rice varieties, while some local varieties with good tolerance and quality are yet to be popularised. 
He noted it is an urgent need for sharing information about these rice varieties, exchanging experience in drought adapted cultivation, and developing value chains of saltwater-proof rice and crops.
Dinh said the establishment of a network for researching and selecting saltwater-resistant rice varieties that match each area's conditions is an effective method since it bases on assessment of producers and localities.
VNA