VietNamNet Bridge – Da Nang City Tourism Association insisted at a talk on Son Tra Peninsula tourism development on Tuesday morning that no more hotels or buildings should be built on the peninsula to preserve its environment and biodiversity.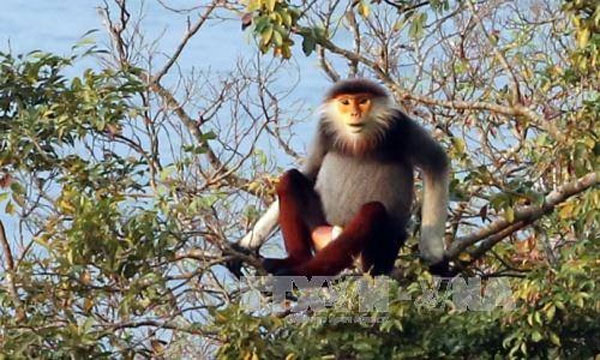 The Son Tra Nature Reserve is a spot where tourists can see the red-shanked douc langur up close and personal. 
Speaking at the talk held in Ha Noi by Ministry of Culture, Sports and Tourism and Da Nang People's Committee, head of the association Huynh Tan Vinh said: "Don't concrete, don't destroy Son Tra."
He said that his opinion on tourism development on Son Tra Peninsula remained unchanged from the petitions that the association submitted to Prime Minister Nguyen Xuan Phuc earlier asking to adjust the Son Tra National Tourism Site plan.
Under the Government plan outlined in May 2013 and approved in November 2016, Son Tra Mountain on the Son Tra Peninsula is set to become a national tourism site and luxury eco-tour resort complex by 2030, able to accommodate 300,000 tourists with 1,600 luxury hotel rooms.
Before May 2013, Da Nang City People's Committee had approved 18 tourism projects on the peninsula, including 11 housing projects expected to provide 5,000 new rooms. Since then, it has not approved any project on the peninsula, which has the Son Tra Nature Reserve, well-known for its rich biodiversity, with 287 animal species and 985 plant species.
The city's Tourism Association strongly opposed the master plan after it was publicised on February, 15 this year.
Vinh said at that time he said that they would lose Son Tra due to hotels.
"I was reassured that such an outlook would not happen but two weeks later, I saw fast deforestation and construction," he said.
"It's time to save Son Tra," he said, suggesting that planning be made in line with conservation and sustainable development for the peninsula.
Son Tra and the neighbouring sea stretching to Nam Hai Van should form a natural reserve like the model of Cu Lao Cham in Hoi An, he said.
"We won't choose tourism projects with massive hotels. We choose to keep Son Tra unchanged, "a green lung@for the next generation.
"If Son Tra is turned into resort area, its natural landscape will be ruined and coral could be threatened," he said.
Head of Viet Nam National Administration of Tourism (VNAT) Nguyen Van Tuan said the VNAT also wanted sustainable tourism strategies like Vinh.
However, vice chairman of Da Nang City People's Committee Nguyen Ngoc Tuan said that the city could face a shortage of accommodation for tourists if no more hotels were built.
"The city expects to host 15 million visitors yearly by 2030, so it needs nearly 58,000 rooms. Some completed projects on the Son Tra Peninsula added 253 rooms and some other projects are ongoing," he said, adding that it was unreasonable to keep the same number of rooms.
Deputy Minister of Tourism Huynh Vinh Ai said that the planning for a national tourism site on Son Tra Peninsula was made after consulting experts and had Government approval.
Responding to the demand that no more hotels be built there, Ai said the issue was complicated and need careful consideration.
"Should incomplete construction work on the peninsula be removed or continued? Should approved projects be stopped? If yes, how should we deal with?," Ai raised major questions for debate at the talk which was organised soon after Deputy Prime Minister Vu Duc Dam announced the temporary halt of the tourism plan on Sunday.
During the three-month halt, agencies and Da Nang People's Committee are asked to collect opinions to report to the Prime Minister.
Danang authorities back Son Tra plan despite tourism group opposition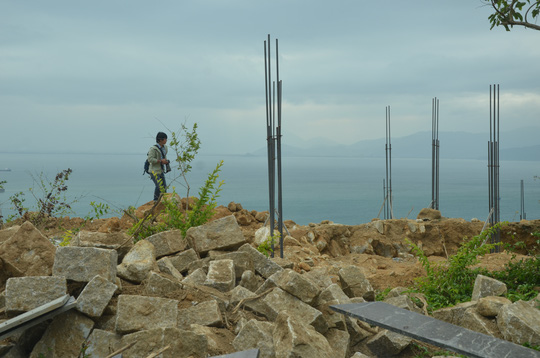 An on-going project of Bien Tien Sa Company




Danang People's Committee said on May 30 that they had submitted the report about Son Tra tourism development master plan to the prime minister.

In 2012, the city approved 25 projects with 18 are tourism development over 1,222 hectares of land. The decisions follow all procedures. They have given land transfer permits to 11 projects and three projects with 253 rooms have completed and put into operation.

Regarding the master plan, the local authorities said they had previously submitted a report to the Vietnam National Administration of Tourism and didn't agree with Huynh Tan Vinh, chairman of Danang Tourism Association.  

Vinh said they should not make any change and no more hotel and resort projects should be licensed on the peninsula as Danang City already had 600 hotels and some 20,000 guest rooms, which are enough to serve 15 million visitors a year.

However, according to Danang People's Committee, Danang has exactly a total of 21,324 rooms and welcomed nearly 2.6 million visitors last year. 50% of the rooms were always full. The city aims to welcome 15 million visitors in 2030 and it needs 58,000 rooms to achieve this goal. As of now, only some 253 rooms of several projects in Son Tra have been opened.

Talking about other proposals from Vinh including combining tourism development with environment conservation and forming an international biosphere reserve, Danang authorities said they would carry out the plan.

They emphasised that Son Tra needs a special mechanism to balance environmental issues with investment. They concluded that development plan should be continued in accordance with the Politburo's Resolution 33 about Danang City's development.

dtinews

Nội dung
VNS