Farmers in the southern coastal province of Phu Yen are losing hundreds of billions of dong as their lobsters are dying en mass.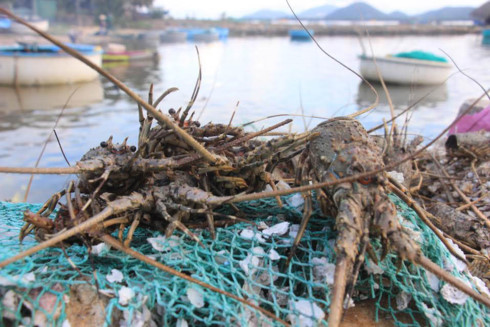 A farmer at Song Cau District's Xuan Yen Ward, Tran Thi No, said that nearly 800 lobsters raised in 10 cages at her farm have gradually died over the past 10 days.
"We keep between 60 - 80 lobsters in each cage but now there are only some three or four left," No said. "We've never seen such large mass dying like this over the past 10 years. Many of us have lost everything."
At a farm near Phuoc Ly beach, Nguyen Thanh Quang have also lost over 1,000 lobsters in 15 cages in just over a week.
"All my savings and bank loans worth several billions have now all gone," Quang said with a sign. "Our lobsters all weigh around 1 kilo and we were negotiating with traders to sell them soon. But now we have nothing left to sell."
In Xuan Phuong Ward, many farmers are collecting the dead lobsters to sell.
"We can only sell those which have just died and look still fresh," a farmer named Pham Canh said. 
"The prices of lobsters now are VND1.5 million (US$66) a kilo but those dead can only be sold a third of that. We're facing a loss of about VND5 million (US$221) for each cage."
According to vice director of the Song Cau District's Animal Husbandry Department, Nguyen Huu Dai, the lobster death was caused by a sudden weather change when there was heavy rains after a long heat wave.
"The rains suddenly changed the saline level and caused a lack of oxygen in water," Dai said. "Another reason is that lobsters are densely raised which resulted in water pollution."
A statistic from Song Cau District People's Committee showed that there were over 1,100 lobster farms in the area with over 13,300 cages. The total losses from this mass death are estimated at hundreds of billions of dong.
Dtinews