Developing renewable energy sources is more urgent than ever to meet demand for power, ensure sustainable growth and cope with climate change in the country, experts said yesterday at a meeting held in HCM City.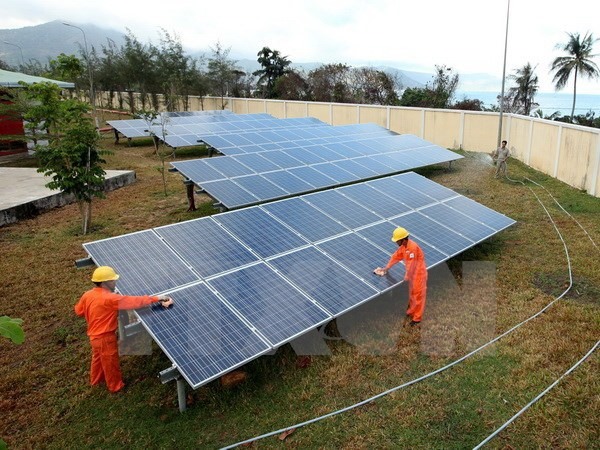 A solar power factory on Con Dao Island in Ba Ria-Vung Tau Province. 
Rainer Brohm, GIZ consultant, said that solar photovoltaic (PV) energy could replace expensive sources such as coal and gas and could quickly meet needed power capacity.
Brohm spoke at a workshop on the development of the solar photovoltaic sector in Việt Nam
 "Solar PV is clean, safe and has no negative environmental or social impact," he said.
The solar PV industry, he said, could easily attract investors and create local added value and jobs in manufacturing, operation and maintenance.
However, Phạm Viết Hùng, deputy director of the Investment Department of Electricity of Việt Nam (EVN), said solar energy generation capacity was variable and subject to wind intensity and solar radiation.
In addition, solar energy planning requires consideration of the capacity by region and choice of project locations, which can lead to difficulties in grid planning and development.
Hùng recommended that the Government continue to study and amend policies to attract investment in renewable energy development.
In addition, it should issue regulations on bidding policy for renewable energy projects from 2020 onwards, he added.
With six presentations by local and international speakers during the three main sessions, the workshop provided an overview of potential, national targets and legal framework of solar power in the country.
It also presented opportunities and challenges for solar power investment, and discussed costs and grid connection and planning issues.
The event provided a dialogue via roundtable discussions with guest speakers, including investors and commercial banks, and feedback from participants on a draft circular about regulations of solar power projects and power purchasing agreements for solar projects.  
For the last decade, coal-fired power plants have caused negative consequences to both the environment and people's lives.
Hydropower, the cheapest energy resource in Việt Nam, is mostly used, but has shown a negative impact.
The long-term potential for residential and commercial solar PV applications is estimated to reach at least 2-5 gWp within the next decade.
Việt Nam has set a target to increase solar PV capacity from around 6-7 MW at the end of 2015 to 850 MW by 2020, 4,000 MW by 2025 and 12,000 MW by 2030.
The workshop was co-organised by the Deutsche Gesellschaft fuer Internationale Zusammenarbeit (GIZ) GmbH in Việt Nam and the General Directorate of Energy under the Ministry of Industry and Trade.
The workshop targeted concerned ministries and departments and 32 provinces which have the most potential for solar PV development.
The event also received assistance from the Energy Support Programme under the Renewable Energy and Energy Efficiency project, which aims to help the country realise the huge potential of renewable energy, and contribute to a revised national power development plan, green growth strategy and climate change target.
The project is implemented by GIZ in close cooperation with the General Directorate of Energy on behalf of the German Federal Ministry for Economic Cooperation and Development. 
VNS