VietNamNet Bridge – The National Committee for Climate Change needs to enhance its international co-operation and learn from other countries' experience to promote climate change response in Viet Nam, Prime Minister Nguyen Xuan Phuc said on Thursday.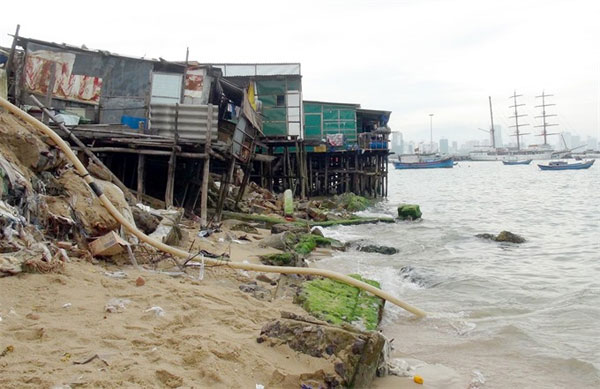 Erosion encroaches houses in coastal area of Vinh Nguyen Ward, central Nha Trang City. Climate change has influenced Viet Nam more quickly and strongly than was previously expected. — Photo: VNA/VNS 
At the committee's eighth meeting in Ha Noi, the Ministry of Agriculture and Rural Development reported that climate change has appeared sooner than previously forecasted. The Mekong Delta, the country's key agricultural hub, has suffered most severely. Up to 10 of the 13 Mekong Delta provinces declared a state of disaster in the dry season last year.
Meanwhile, the rising sea level encroached three metres into the coast in the central province of Phu Yen each year, the Ministry of Transport said.
In the climate change scenario updated in 2016 by the Ministry of Natural Resources and Environment, the sea level could rise by up to one metre by the end of the 21st century, and flooding nearly 39 per cent of the Mekong Delta's area, 18 per cent of HCM City and 17 per cent of the Red River Delta. Meanwhile, this scenario hasn't taken into account land subsidence due to groundwater exploitation and geological changes.
Participants said climate change has influenced Viet Nam more quickly and strongly than expected, as seen in frequent extreme weather conditions and serious natural disasters. They attributed the problems to human activities like greenhouse gas emissions, deforestation, sand mining on rivers and groundwater overexploitation.
While climate change response programmes need up to US$30 billion to be carried out, mobilising capital and attaining ODA loans has proved difficult, they added.
At the meeting, Phuc, who is also Chairman of the National Committee for Climate Change, said that although a number of relevant resolutions and action programmes have been issued, many ministries, sectors and localities have not fully realised the need to take action.
It is necessary to educate all authorities, sectors and people fully about climate change and the necessary response measures. If people lack awareness, any resources spent will be useless, he added.
The national committee must specify climate change risks and opportunities in Viet Nam while making overall plans to serve the building of needed tasks, he said, adding that the urgent problems that need to be addressed now include illegal sand mining, groundwater exploitation and the need to develop eco-cities.
Phuc told the committee to make use of people's experience in climate change response and propose revisions to legal regulations, including the Law on Natural Disaster Prevention and Control.
Regarding the limited funding for climate change response, the Government leader requested the Ministry of Planning and Investment to work with relevant agencies to allocate financial resources in a transparent and effective manner, with priority given to the Mekong Delta.
Ministries and localities must devise concrete plans to carry out the assigned tasks in the implementation of the Paris Agreement on climate change, he said. 
Source: VNS