Bay Mau coconut grove, a popular tourism spot, in Quang Nam Province's Hoi An Town has suffered through tourist development.
 A restaurant in the Bay Mau coconut grove
Bay Mau Village in Cam Thanh Commune is well-known for being an important historical relic and also attracts many travellers.   
The area is located near the mangrove ecosystem estuary. In the past, it was served as a revolutionary base for local residents during the two wars against the French and the Americans.
However, over the recent years, many local businesses and households have cut down coconut trees to build their fish-breeding ponds, restaurants, bars, or villas. More coconut trees died during construction work.
The 120-ha forest has now been turned into a noisy construction site.
Some years ago, under the support of a non-government organisation, dozens of hectares of new coconut tree were grown with the intention to combine aquatic activities and tourism services in the forest. But lax management has resulted in the current situation.  
Many enterprises and local residents have built concrete works, instead of temporary houses using bamboo and coconut leaves only to provide tourism services.
Local residents worried Bay Mau coconut forest will disappear.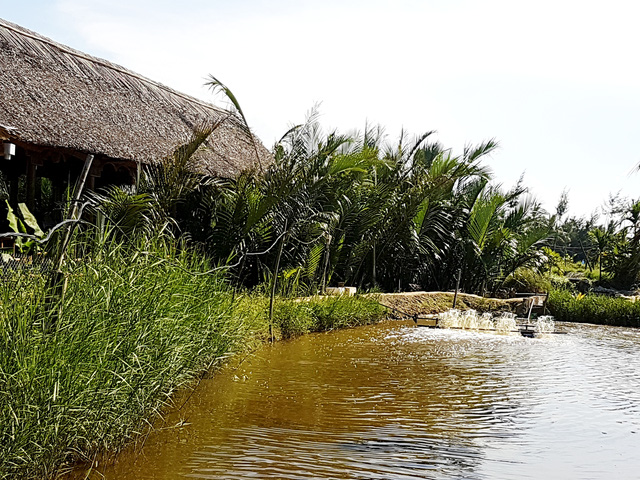 A shrimp-breeding pond in the Bay Mau coconut grove
Nguyen Van Son, vice chairman of Hoi An Town People's Committee, admitted to the problems, blaming this on bad awareness of some local households and businesses.
"Local authorities should strictly deal with the violations, however, in many cases, people often did their building work in the forest at night; so this has caused difficulties for the settlement," Son added.
According to Son, to date, Hoi An Town has dealt with 19 violations and will destroy illegal constructions in the forest if their owners do not remove them.
Dtinews