VietNamNet Bridge - Air pollution is getting more serious in large urban areas, with pollution in the north more serious than the south.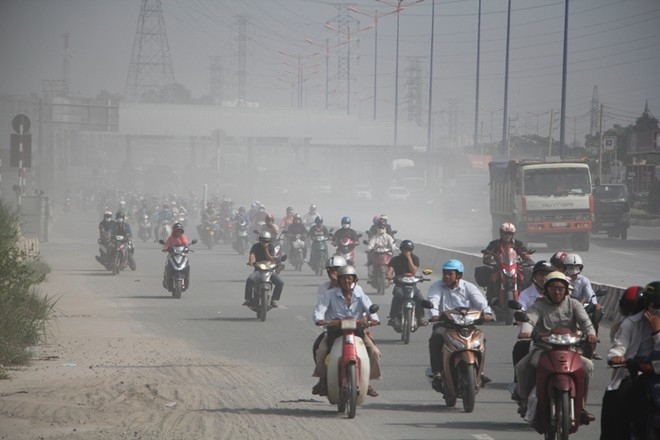 The north is incurring cross-border air pollution, reports say.
Vietnam is among the countries which cannot meet WHO's standards on safe air, according to Nguyen Trung Thanh, deputy head of the Institute of Strategy & Policy on Natural Resources and Environment.
Air pollution is getting more serious in large urban areas, with pollution in the north more serious than the south. 
A report by the Ministry of Health (MOH) showed that respiratory diseases are the most common disease throughout the country, and the major cause is air pollution.
In 2011, 419 people out of 100,000 people (4.2 percent) had pneumonia, while 350/100,000 people (3.5 percent) suffered from sore throat and acute tonsils, and 273/100,000 from bronchitis.
There are four major causes of air pollution, including transport activities, industrial production, civil engineering and agriculture production, and craft villages.
The total dust concentration exceeds QCVN 05: 2013 national standards by 2-3 times while it is concentrated in high traffic roads. 
The level of pollution is especially high in special and first-class urban areas. The fine dust (PM2.5) measured at automated monitoring stations usually exceeds the annual average level in accordance with QCVN 03:2015 standards.
Thuy has warned that there are some signs of acid deposition, photochemical fog or cross-border pollution. The entire northern part of the country is believed to bear considerable impact from emission sources from China.
Scientific research has found the transportation of fine dust and gaseous pollutants to Vietnam brought by the northeast monsoon, which makes air pollution in the north more serious.
A report released by GreenID showed that the air quality in Hanoi in the first quarter saw some improvements compared with the last year's same period. 
However, the number of days when the air quality was very bad and 'harmful to people's health' was higher.
Meanwhile, the air quality in HCMC in Q1 2017 was worse than the last year's same period. 
Hanoi experienced the first three months in 2017 with high dust concentration in air. There were 37 days with the PM2.5 concentration within 24 hours higher than the national standard (50 μg/m3) and 78 days higher than the WHO's standard (25 μg/m3).
The scientists attending a workshop on air quality held by the National Assembly's Office called on to build up a specific law to control the air pollution amid the increased pollution.
A WB study in 2016 showed that the total global social welfare losses due to fatal effects of air pollution amounted to over $5 trillion. In Vietnam, these losses total an estimate of $23.8 billion in 2013, or about 5.2 percent of the country's GDP.
RELATED NEWS
Air pollution in Hanoi reaches hazardous levels
HCM City to spend $44m to tackle pollution
Thien Nhien