The southernmost province of Ca Mau losses about 450 hectares of coastal land a year due to landslide and 150 kilometers of coastline are experiencing severe erosion now.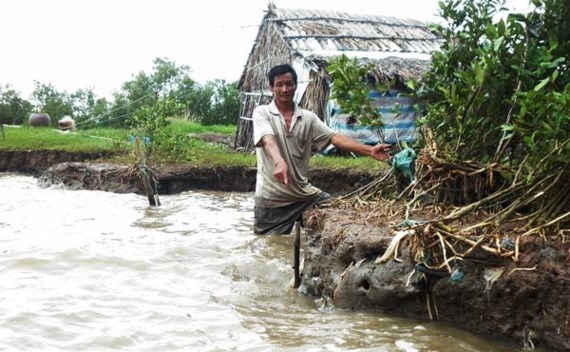 A coastal landslide spot in Ca Mau province
That was reported by Mr. To Quoc Nam, deputy director of the provincial Department of Agriculture and Rural Development, to a delegation from the Ministry of Agriculture and Rural Development who conducted a survey about coastal landslide in the province on May 10.
According to Mr. Nam, many protection forests have fallen into the sea threatening residents' lives, production and coastal basic construction works.
The province has fortified embankments at vulnerable spots along 23.6 kilometers with the total capital of VND650 billion (US$28.6 million). Still, investment has yet to meet demand.
Therefore local authorities have proposed the Government to assist VND200 billion ($8.8 million) to build 10,000 meters of embankment to cope with the coastal landslide.
In addition, the province needs VND1.4 trillion ($62 million) to evacuate and resettle 4,800 households from riverside and the coastal areas, susceptible to natural disasters, and create livelihood for them.
SGGP