Residents Mekong Delta province of Kien Giang have discovered a large number of fish deaths on water surface along seashores of Kien Luong district and town of Ha Tien since May 7th.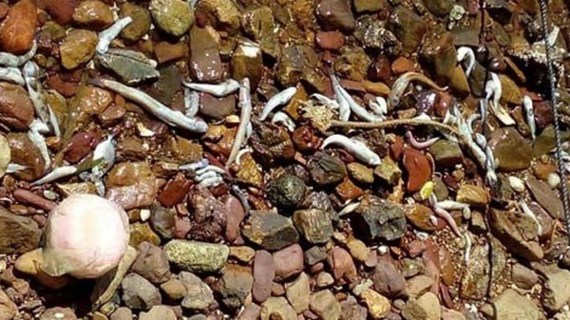 A large number of fish deaths on water surface
Director of the Kien Giang's Department of  Agriculture and Rural Development Mr. Nguyen Van Tam said that the department immediately asked the Kien Giang Office of Fisheries and Aquatic Resource  and Fishery Extension Center to visit the location, take samples of water and the dead fish to find out reason after receiving the information from the local residents. 
Fish deaths included not only surface living fish such as various kinds like Goby, Sargocentron rubrum, Atherinidae but also deep sea fish such as Loach, Mantis shrimp... 
In the same time breeders of clams in Ha Tien have found  clams dead in their farm, estimated around 60 tons. 
According to deputy director of sub-Department of Animal Husbandry - Veterinary of  Kien Giang Mr. Nguyen Dinh Xuyen, the initial tests showed that water source near Tam Ban sluice in Kien Luong district has sign of pollution, as a result it is spreading to seashore areas.
SGGP