VietNamNet Bridge - Vietnam's sand resources are expected to be exhausted after 15 years. However, people are still wasting sand, and enterprises continue exporting sand.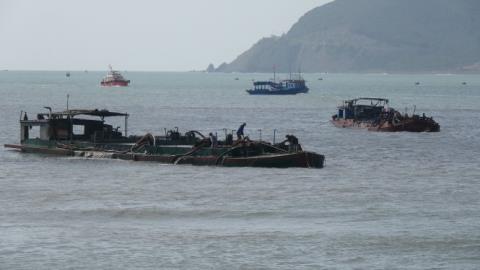 According to the Ministry of Construction's (MOC) Building Material Department, the sand amount to be exploited can satisfy only 60-65 percent of demand in large cities. 
As more and more infrastructure projects are implemented, the demand for sand has increased dramatically.
Reports showed that total sand natural resources are estimated at 2.3 billion cubic meters. 
As more and more infrastructure projects are implemented, the demand for sand has increased dramatically.
In 2015, Vietnam needed 92 million cubic meters of sand, while the figure is expected to increase to 130 million cubic meters.

With the current construction pace, the sand supply sources will get exhausted after 15 years. 

MONRE has also warned that if the sand use cannot be programmed well and if alternative materials cannot be found, Vietnam will not have more sand for the construction industry in the future.

At many construction works, such as Son La and Lai Chau hydropower projects, artificial sand, created by grinding stones, is used instead. 

Local newspapers in recent days have repeatedly reported about the illegal sand exploitation in many cities and provinces throughout the country. The images of large pipes from pumps thrust deeply into the riverbed to absorb sand can be seen regularly in newspapers.

Hanoi Police have discovered and seized 13 illegal sand exploitation vessels in the Red River's border area between Hanoi and Phu Tho Province.

In the southern provinces of Dong Nai, illegal sand exploitation has become hotter than ever, with many beautiful rivers becoming huge sand mining fields. 

In the central region, while the government is spending billions of VND on projects to deal with worsening erosion at Cua Dai Beach in Hoi An Town, several companies took advantage of the projects to illegally exploit sand.

Tuoi Tre newspaper reported that more than 10 enterprises exported salty sand under the licenses granted by MOC since 2016. 

The river dredging projects are allowed to sell all the sand they exploit to cover expenses and make a profit.

Most of the projects of this kind are in central waterways. The projects export sand to Singapore at $1 per cubic meter on average.

Most recently, on May 1, the Can Tho City Police discovered and seized nine sand laden freighters, each of which was carrying 1,000 cubic meters. The owners of the freighters could not show documents to prove the legitimate origin of the sand. 

In Bac Ninh province, the situation is so serious that the province's chai Nguyen Tu Quynh has asked the Prime Minister to instruct the Ministry of Public Security to start an investigation about the Cau River dredging project.
RELATED NEWS
Illegal sand exploitation vessels seized in Hanoi
Who lends a hand to illegal sand exploiters in Dong Nai?
Kim Chi