Environmental pollution is a concerning issue and seeking measures to cope with the issue is an urgent matter in the upcoming time.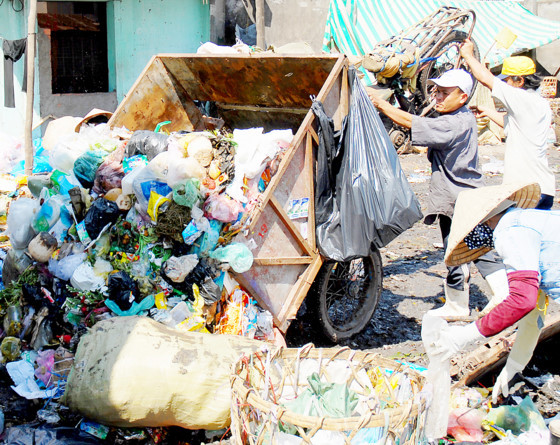 Garbage collection in Pham Van Xao street, Tan Phu district, HCMC 
The statement was made by chairwoman of the HCMC People's Council Nguyen Thi Quyet Tam at a conference on urban waste management on Friday.
At the event, Mr. Truong Trung Kien, head of the council's Urban Board said that the latest surveys by the board show that the Saigon-Dong Nai river system is being polluted with many norms being substandard comprising TSS, DO and Coliform.
Except Nhieu Loc-Thi Nghe canal, which water quality has been much improved thanks to cleanup projects, the remaining four namely Tan Hoa-Lo Gom, Tham Luong-Vam Thuat, Tau Hu-Ben Nghe and Doi-Te are heavily polluted.
The city now receives 2.75 million cubic meters of wastewater a day on average. Of the volume, it has been able to handle 13.2 percent with only one out of 12 treatment plants having been built. Meanwhile, air polluting from traffic, residential activities and construction noise have been uncontrolled.
Another issue is household waste with many limitations in collection and treatment. 8,300 tons of garbage are discharged a day without classification, mainly from households, production and trading activities, service, health and commerce establishments.
The city has implemented propaganda programs on garbage classification with weak efficiency. Garbage collection has been asynchronous from means to ways of collection. Residents in some areas classify garbage but environmental hygiene forces collect all types together.
At present, public service companies have handled only 40 percent of garbage. The remaining amount depends on private forces without management from authorized agencies, resulting in pollution during collection process.
Garbage is transported and gathered at about 1,000 spots in residential areas, where have no infrastructures to receive and keep garbage hygienically. That has caused serious pollution and affecting the life of surrounding residents.
Meanwhile treatment has mainly by burying. Water leaking from the process of garbage collection and treatment has been difficult to control. Solid waste volume has far exceeded the capacity of garbage dumps. Consumption of recycled products has been low.
Da Phuoc solid waste treatment complex receives 5,000 tons a day comprising 2,000 tons from Phuoc Hiep landfill site. However Da Phuoc complex has neither organic waste treatment system nor automatic observation system as per regulations, causing recently smelly situation in the southern part of the city.
The city has called on investors to build garbage burning plants, some investors have proposed to attend but complicated procedures have hindered them from implementing projects.
Mr. Le Van Khoa, head of the environment subject of HCMC Technology University, said that the city should scrutinize the burning of garbage because it will emit toxic gas such as dioxin, furan and waste ash containing toxic heavy metals.
Quoting reports, he said that environmental pollution damage reaches 5 percent Gross Domestic Product (GDP) a year. Last year, the state budget spent VND225 trillion (US$9.9 billion) on solving the issue.
Environmental pollution concerning issue in HCMC ảnh 1
Activists guide traders in Binh Dien wholesale market to classify garbage (Photo: SGGP) 
The ratio will quickly increase if environment improvement measures are not carefully calculated. At first he suggested recalculating the transport of all garbage in the city to the southern area as present.
According to him, that has increased transport costs, caused pollution during the transport process and overloaded traffic infrastructures in the southern area.
Agreeing with the above view, head of the Economics-Budget Committee of the People's Council Nguyen Minh Quang said that the city Department of Natural Resources and Environment should propose the city to reopen Phuoc Hiep landfill site to reduce pollution for the southern area.
In addition, the city should further call on social investment in garbage treatment infrastructures and build waste mud treatment as there is only one plant unable to meet demand now.
SGGP