VietNamNet Bridge – Poor planning and management of sand mining has led to a stunning but unsurprising warning: Viet Nam is very likely to run out of sand in less than 15 years.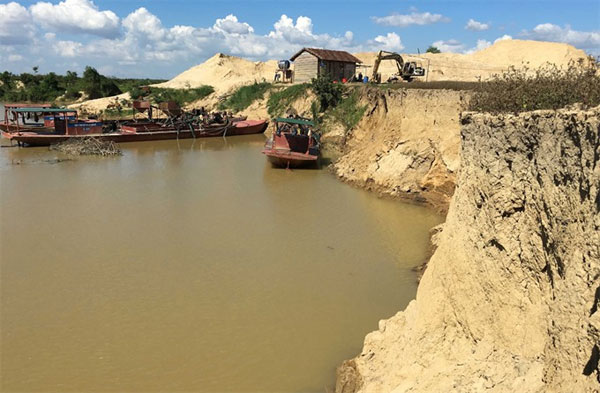 Serious bank erosion on the Krong Pak River in Dak Lak Province near the site of the Doan Ket sand mining Co. – Photo: VNA/VNS 
A report by the Department of Construction Materials (DoCM) of the Ministry of Construction says the demand for sand in 2015 stood at 92 million cubic metres, and will surge by some 40 per cent to about 130 million in 2020.
The driving force behind the increase is the construction frenzy across Viet Nam, a developing nation pouring more and more cash into infrastructure investment, especially in cities.
But legally licensed sand mining can only meet some 60 to 65 per cent of the need of big cities, according to the DoCM.
The gap, consequently, was filled with the sand exploited illegally from several rivers under the eyes of local authorities for years. They refused to tighten their grip on the sand mining until a recent crackdown ordered by the central government following an expose by Tuoi tre (Youth) newspaper about illegal sand mined in Viet Nam was shipped to Singapore.
The crackdown on illegal sand mining, plus a suspension of activity in legal mines for a thorough review of the industry, has further strained sand supplies to the market, resulting in prices immediately shooting over the roof in the following months and showing no signs of stopping.
Prices on fire
According to Tuoi tre, sand prices in the Cuu Long (Mekong) Delta nearly doubled compared to two months ago. Yellow sand, for example, is sold in Can Tho City at VND100,000 (US$4.4) a cubic metre instead of just VND65,000 back in March.
A construction material seller in Vinh Long Province, meanwhile, said that the price of the particular sand used for leveling ground increased by about 40 per cent in just one day, from VND80,000 on May 2 to VND115,000 a cubic metre the following day. He told Tuoi tre that the sand supply was becoming "very scarce" and everything was sold out despite.
HCM City – the economic hub of the south – saw a rocketing three-fold price hike. The yellow sand used for mixing mortar is sold at more or less VND600,000 a cubic metre, compared to just VND180,000 a month ago.
Alternative materials
The Ministry of Natural Resources and Environment has also voiced concerns over the sand resource, warning that there was a real risk of sand running out for construction and alternatives must be seriously considered.
One option, according to the natural resources ministry, was to use artificial sand created by crushing rocks. The material was in fact used in some construction, like the Son La and Lai Chau hydropower plants.
Hoa Binh Construction and Real Estate Corporation's Supplies Division Head Huynh Nhan Quang suggested looking for factory-produced mortar instead of following the traditional way of mixing sand and cement. "The supply of ready mixed mortar in Viet Nam is limited, though, for the demand of the construction market," Quang said.
Given the almost total reliance on sand until now, Ha Tien Cement Company, the biggest mortar producer in Viet Nam, even decided last year to suspend dry mortar manufacturing, feeling there was insufficient demand, he said.
"We hope that (mortar) manufacturers soon reevaluate the market to develop sand alternative products in order to meet the upcoming wave of market demand," he said.
VNS