VietNamNet Bridge - Resources have been applied to prevent landslides in the Mekong Delta, but the problem has proven to be difficult to solve.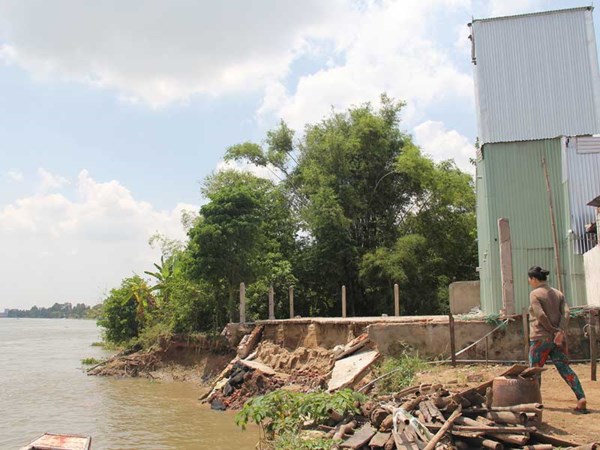 In recent years, the riverbank erosion and coastal landslides have been taking away 500 hectares of land in the Mekong Delta every year, according to a report of the Ministry of Agriculture and Rural Development (MARD).
Landslides have occurred at 265 spots with the total length of up to 450 kilometers in the delta. 
The riverbank erosion mostly occurs in rainy season, but more landslide cases have occurred in dry season in recent years. These include those that occurred in An Giang province on April 22.
Tran Thanh Toan, head of the Hau Giang provincial Irrigation Sub-department, commented that the continued landslides in dry season shows that everything does not always go according to natural law.  
The continued landslides in dry season shows that everything does not always go according to natural law.  
Six riverbank landslide cases have occurred in Hau Giang province since the beginning of the year and thousands of square meters of land have disappeared, according to Toan.

Nguyen Huu Thien, an independent researcher, said the landslides in Mekong Delta are getting more serious. 

In coastal areas, five square kilometers of land area are lost every year, while there is no official figure about the riverbank erosion.

"When riverbank erosion takes place on a large scale, this must not be attributed to the changes of the current, navigation or houses built next to the riverbank. This shows an imbalance in the whole system," Thien said, adding that it is necessary to conduct surveys to discover the basic causes and solutions.

Some environmental experts believe that overexploitation of underground water has led to land subsidence and cracks which later enlarge to become holes, affected by tides.

Experts also believe that the massive sand exploitation on rivers is a cause. 

According to international studies, in the last 15 years, Tien and Hau Rivers have lost 200 million tons of sand, lowering the river bed by 1.3 meters. There are very deep holes in some places. 

Scientists say sand exploitation will not only have impacts on the spot, but its impact may reach hundreds of kilometers on the entire river system. The exploitation will create deep holes and limit sand drifting from the upper course.

They have also warned that later, if more hydropower dams are built on the upper course of Mekong, all of the sand and gravel won't be able to arrive in the Mekong Delta. If so, the landslides will be even more serious.

Agreeing with the opinion, Thien said the cause was an imbalance due to a lack of alluvium, sand and gravel.
RELATED NEWS
Landslides threaten lives and livelihood in Ninh Thuan
Vietnam forecast to see more flash floods, landslides in 2017
Thanh Mai