VietNamNet Bridge – Garbage and wastewater pollution from factories is threatening the Lam River and its arms in the central province of Nghe An.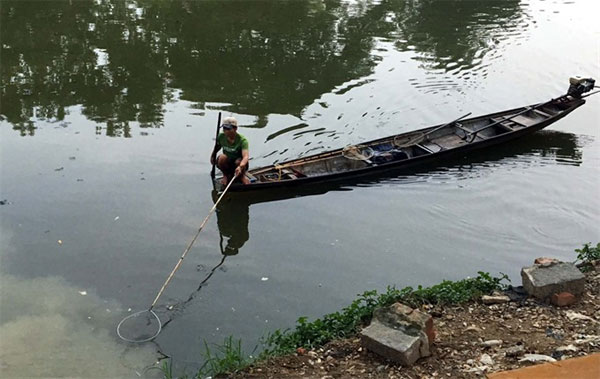 A man catches fish with a handmade electric tool on the Lam River in the central province of Nghe An. 
Dozens of factories discharge untreated wastewater into the river daily.
Nguyen Dinh Tung, chairman of the People's Committee in Quy Hop District said the area is home to many enterprises that mine and process stone and tin ore.
Local authorities are aware of the problem of waste discharge but lack the funds to do anything about it, Tung said.
"It's hard to control illegal mining due to the large number of plants here," he said.
Environmental management should be tightened, especially companies mining stone and tin ore, he added.
Last month, hundreds of kilograms of fish died in Nam Huong Stream after a waste treatment system at a tin ore plant broke.
Roughly 12m of the storage system ruptured on March 8, leaking nearly 100cu.m of mud and wastewater into the stream.
Local authorities have taken samples of the waste from the stream to determine the extent of the contamination.
The leak also affected more than 300ha of rice along the stream, while Nam Huong residents may face lead or arsenic poisoning.
Vi Thanh Tuong, vice chairman of People's Committee in Quy Hop District said that local authorities have asked the companies to treat their waste themselves due to a lack of funds to build a waste treatment system.
Many violations of waste laws have been punished, he said.
In Anh Son District, wastewater from Song Lam Sugarcance Joint Stock Company's plant was also reported to have polluted a river.
Local residents said they saw a large sewage pipe which was carefully hidden in bushes.
The river has seen a rise in wastewater, with white foam like soap and a yellow-brown substance discovered, Dan Tri online newspaper reported.
The wastewater was discharged daily in the sugarcane harvest season. At night and on holidays, the water became dark and smelly, a local resident told the newspaper.
Le Viet Quy, the company's production director, complained that local residents did not understand the company's wastewater treatment system.
"Our company checks wastewater standard twice a year and has permission from authorised agencies to discharge," Quy said.
He also confirmed that the dark water reported by residents was wastewater caused by workers cleaning machines.
Nguyen Huu Sang, chairman of Anh Son District's People's Committee, told reporters that he had heard no reports about the company, but promised to inspect the incident and deal with it if the company violated environmental regulations.
A wood processing factory is in the same situation.
People in Yen Khe Commune's Na Pha Town said that the wood factory of Con Cuong Forestry Limited Company discharged untreated wastewater directly into Diem Stream, a Lam River branch, on a daily basis.
Locals reported that the factory's wastewater pipe was in the middle of the stream, making it difficult to see.
Many fish had died at one point due to contamination of wastewater from the plant, they added.
Additionally, factories in Nghia Dan and Quy Hop districts intentionally discharged untreated wastewater into the Hieu, Nam Ton rivers and Nam Huong Stream - the Lam River's arms, they said.
"The environmental pollution in the rivers, especially the Lam River, is a big problem and needs attention not only of authorities but also the community," said Vo Duy Viet, director of the provincial Department of Natural Resources and Environment.
"The province is trying to find a best solution to minimise the negative impact of these activities on the river environment," he said.
According to Viet, violations should be punished strictly and raising public awareness of environmental protection needs to improve. 
VNS