VietNamNet Bridge – HCM City faces a shortage of garbage collection stations, with empty pavements in public areas often used as makeshift stations.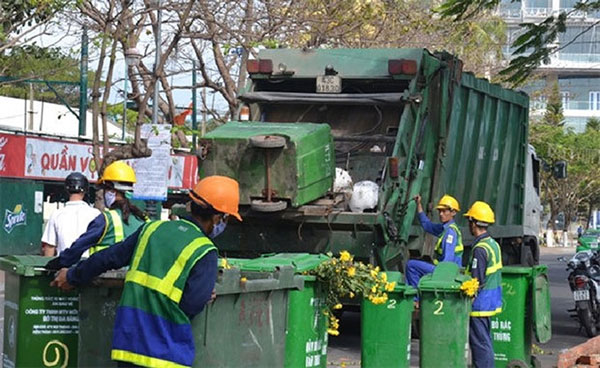 A garbage collection station in District 3 of HCM City. 
At the collection stations, rubbish is collected, sorted for disposal and then transferred to dumping sites or treatment zones, but these unhygienic tasks have been performed in public areas.
Meanwhile, current garbage stations are dilapidated and overloaded, polluting the environment and becoming a nightmare for those living nearby.
A garbage collection station located at the Quang Trung-Tan Son Intersection in Go Vap District is an example. The station has become a nightmare for local people, including hundreds of students and teachers from the school nearby.
Le Van Truc, resident in Ward 8, told Ha Noi Moi (New Ha Noi) newspaper that the garbage collection station was built ten years ago, causing a terrible odour and traffic chaos.
He said locals asked authorised agencies to move the station, but received no reply.
In the area near September 23 Park in District 1, three stations plague the downtown area of the city. The one on Hai Ba Trung Road has become overloaded due to the large amount of rubbish collected from Ben Nghe and Ben Thanh wards.
Pham Le Nghia, resident in Ben Nghe Ward, said garbage was collected twice a day.
Rubbish was being thrown into the street, attracting flies and affecting traffic.
Three other stations on Pham Ngu Lao and Le Lai roads are in the same situation.
Le Van Thien, worker of Public Service District 1 Co Ltd said workers knew of the complaints of local people about the pollution from the stations, but there's nothing they can do.
Most of the stations were overloaded, he said, the workers had to make use of every square metre of empty space at bus stations, parks or pavements to do their job.
"We've been trying to clean the areas after finishing our job," he said.
Reports from the city's Department of Natural Resources and Environment showed that there were 31 garbage collection stations in the city. Of that number, only five met hygiene and environmental protection requirements.
HCM City discharges nearly 8,000 tonnes of domestic waste per day on average.
Nguyen Minh Hoa of HCM City's University of Social Science and Humanity faculty said this was a worrisome issue as a clean, civilised city should pay attention to environmental issues.
Pham Hong Cau, general director of Dai Phuc Construction and Trading Co Ltd said that garbage collection stations should be located far from traffic and be isolated from residential areas by green trees. It must have capacity of between 60-200 tonnes of waste per day, and use technology to keep noise, dust and smell from spreading to the surrounding environment.
Most stations fall short of these requirements, he said.
Nguyen Thi Thanh My, deputy director of the city's department said the amount of waste had increased five per cent annually. The main problem was building new garbage collection stations and upgrading current facilities with the city's limited land funds.
According to experts, the city should devise a roadmap to curb environmental pollution. Overloaded and downgraded stations should be closed down and moved to suitable locations. 
VNS