VietNamNet Bridge - Rapid population increase and urbanization have put pressure on waterways in the country.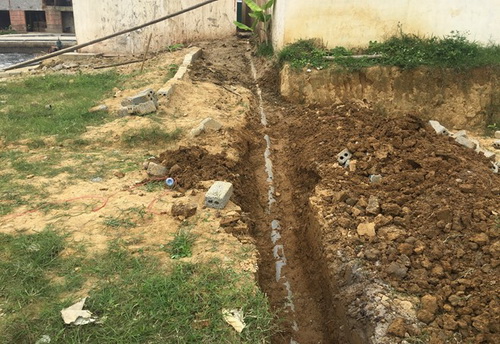 The rivers in Vinh Phuc province have turned black as they have been receiving domestic waste water and waste water from craft villages, garbage and dead animals for many years.
The Phan River, originating from the southern slope of Tam Dao mountain, plays an important role in water supply and drainage. It stabilizes the environment to maintain ecological landscapes for the localities in the province. 
Phan is also the main water supply source for the Ca Lo River and determines the water quality of the Cau River –the water source for downstream communities.
Phan River's water quality was once good enough to breed shrimp and fish. It was also an important waterways route, but not now. 
Rapid population increase and urbanization have put pressure on waterways in the country. 
A report of the provincial authorities showed that, Phan has to receive 20,000 cubic meters of domestic waste water every day from 210,000 households, 4,000 cubic meters of industrial waste water and 21,000 cubic meters of waste water from pig, cow and poultry farms. Hundreds of tons of garbage are thrown into it, blocking the river.

In Yen Lac district alone, hundreds of households live on careers related to metal, chemical, rubber and paint processing. They discharge a big volume of waste into the environment every day.

The Pho Day River is in the same situation. It has become more seriously polluted as the local economy develops more strongly. In late March 2017, local people discovered hundreds of bags containing dead pigs on Pho Day. 

Meanwhile, the Bang River is the victim of the Cao Bang cassava starch plant run by Khanh Ha JSC in Cao Bang City. Since it became operational in 2013, the plant has affected locals' lives and agricultural production. People suffer from the bad odor from the plant, while the rice fields can no longer be cultivated.

In late 2016, the police decided to impose a fine of VND111 million on Khanh Ha JSC and asked it to respect the current laws on environmental protection.

Most recently, on April 12, appropriate agencies in Thanh Hoa province announced that they found evidence proving that the mass fish deaths on Am River in recent days were caused by waste water from Tuan Vinh Production, Trade & Transport.

Tuan Vinh was found installing a pipe underground which brought untreated waste water directly to the Am River.

The violations committed by Khanh Ha and Tuan Vinh Companies are 'very serious'. However, Khanh Ha was fined only VND111 million, while Tuan Vinh has been asked to pay the fine of VND160 million.
RELATED NEWS
Dead rivers in the Mekong Delta
River, community suffer at the hands of local paper manufacturer
Mai Chi