VietNamNet Bridge – Scrap steel imports to Viet Nam in the first three months of this year increased sharply compared with last year, up more than 45 per cent in volume and 120 per cent in turnover, which poses serious environmental threat.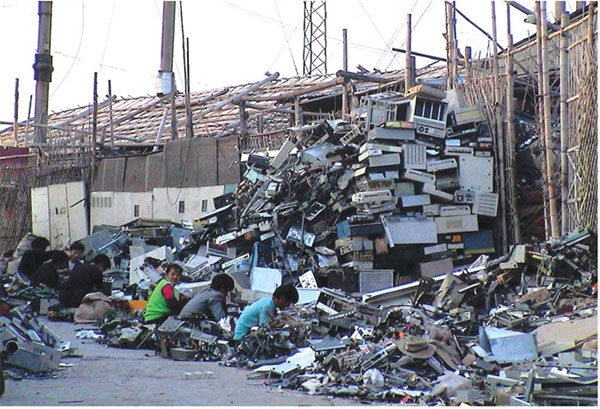 Scrap steel is piled up for recycling. 
According to the latest statistics of the General Department of Customs, Viet Nam imported more than one million tonnes of scrap steel in Q1, valued at over US$276 million, at the average price of $260 per tonne. 
Average daily scrap steel import reached over 11,000 tonnes, 1,000 tonnes higher than the average quantity in 2016.
Scrap steel imported to Viet Nam mainly originated from the US, China, Korea, Japan and Taiwan. 
Most of the imported scrap steel was loaded at the entry ports of Hai Phong and Sai Gon and partly transferred through trains running across the northern border provinces of Lao Cai and Lang Son.
Local experts attribute the massive scrap steel imports to the country's use of outdated technology, under which scrap steel is one of the main components for steel production. 
This is a low-cost process to make steel; however, only 60-70 per cent of the scrap steel can be ultilised; the remaining is removed in the production process.
According to experts, there are different types of scrap steel, adding that construction scrap steel can be fully utilised to produce iron and steel. 
Meanwhile, scrap steel in the form of components, such as machinery, equipment, spare parts, microchips or boats, must be dismantled before being part of the steel-making process, which causes additional costs of warehousing and poses the risk of environmental pollution.
Only those enterprises that own specialised plants, warehouses and drainage treatment systems are allowed to import scrap steel. 
By the end of 2016, more than 40 enterprises across 63 provinces and cities nationwide were engaged in the import and recycling of scrap steel, one third of which provided raw materials for steel plants in the country.
According to reports of more than 54 departments of natural resources and environment submitted to the Ministry of Natural Resources and Environment, many facilities and enterprises recycling and processing scrap steel have yet to fulfill the demand for environmental protection.
Under the Prime Minister's Decision No 73/2014/QĐ-TTg, there are 36 types of scrap steel allowed to be imported, and all must be recycled and used as raw material for steel production. 
However, in 2015 and 2016, there were many types of scrap steel unloaded at the ports of Quang Ninh, Hai Phong, Dong Nai and Ba Ria-Vung Tau that were reused without treatment. This poses the risk of Viet Nam becoming a landfill for industrial countries. 
VNS