VietNamNet Bridge – The country's wild bear population has declined sharply over the past 20 years, according to recent surveys carried out in 22 protected areas.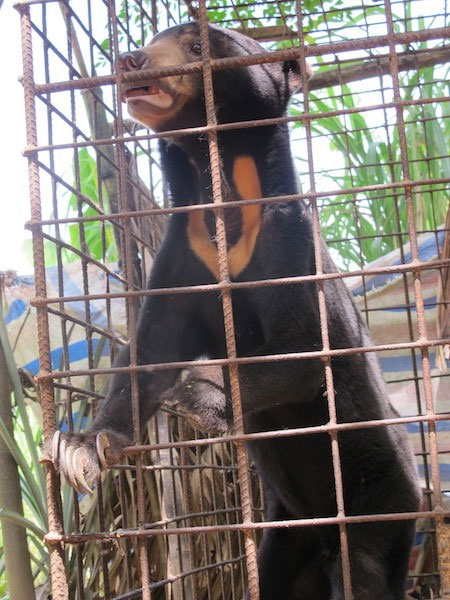 A moon bear caged in a village during the surveys. It was reportedly trapped in a wire snare in 2015 near the Laos-Viet Nam border. — Photo courtesy of Centre for Environment and Rural Development
The surveys were part of a three-year collaborative project by the Centre for Environment and Rural Development at Vinh University with the support of the conservation and animal welfare organisation Free the Bears and Animals Asia.
Interviews with over 1,400 residents living next to the protected areas indicate that the bear population declined between 1990 and 2005, mainly due to hunting. Although 77 per cent of respondents believed bears were still present in their local forest area, the majority agreed their numbers had declined.
This period coincided with the expansion of bear bile farming, with the number of bears kept on bile farms increasing tenfold, from 400 to over 4,000 between 1999 and 2005. Bears in bile farms, mostly Asiatic black bears, also known as moon bears, are subjected to bile extraction from their gall-bladders, allegedly for medical use.
To hasten the phasing out of bear bile farming in Viet Nam, the report suggested that the Ministry of Agriculture and Rural Development, in collaboration with partner NGOs, conduct a thorough and rapid assessment of all remaining facilities, to determine the number of bears remaining, their ages, physical conditions and veterinary requirements
A management strategy should be developed to rehome and provide life-long care for the bears in rescue facilities as soon as possible, it said.
The report recommended that Government and non-government partners assist the traditional medicine community in promoting the use of herbal and synthetic alternatives to bear bile.
Brian Crudge of Free the Bears, the project leader and research programme manager, said the survey results show that the practice of bear bile farming is likely to increase demand and hunting pressure.
"These survey results show clearly for the first time just what a misadventure bear bile farming has proven to be," said Matt Hunt, Chief Executive of Free the Bears and co-chair of the Asiatic Black Bear Experts.
"Our only hope now is that wild bears might have a chance to recover in Viet Nam, and that other bear bile farming nations may learn from this folly and begin closing down their own farms before it is too late," he said.
VNS