VietNamNet Bridge – A knowledge hub to support climate change action was launched in Ha Noi on Tuesday.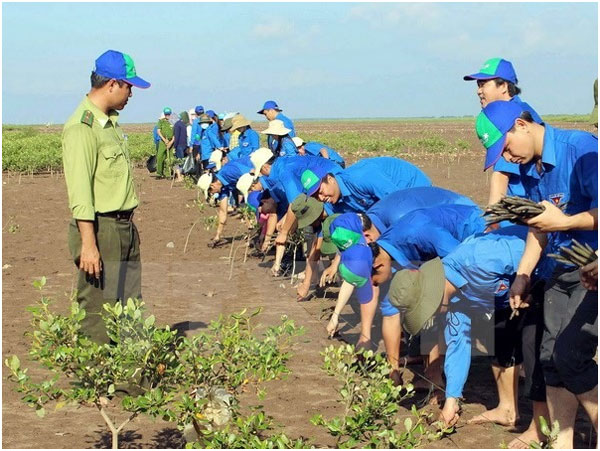 Youngsters plant a coastal protection forest in Soc Trang Province's Tran De District. — Photo: VNA/VNS 
The Climate Policy Hub, hosted by the International Center for Tropical Agriculture (CIAT)'s regional office in Ha Noi, aims to generate robust evidence on climate change in countries across Asia, and assist in policy development and investment decisions aimed at mitigating and adapting to climate change.
The hub offers agro-ecosystem diagnoses, mapping and modelling exercises, and economic and policy analyses, said Dr Dindo Campilan, CIAT's Asia director at the inauguration ceremony.
"[The hub] will help research and development organisations and businesses by providing relevant and detailed information on the challenges and opportunities that climate change will bring," he said. "It will also offer a way for governments and businesses to interact with scientists."
According to Campilan, the initial steps for countries are to understand exactly where and how agricultural production is vulnerable to climate change, what climate-smart practices already exist in the country, and what is required in terms of policy and investment support to scale up those practices or introduce new ones.
CIAT is working with private sector decision-makers and buyers of high-value perennial crops in the region to ensure that their sourcing strategies take into account the long-term resilience of smallholder suppliers in the face of climate change, Campilan said.
"We recognise that information is only the first step," he said. "The bigger work will be in effecting changes – from products grown to farming practices to how institutions and organisations operate."
"All these changes require a certain level of investment, especially if they are to be implemented on a massive scale," Campilan said. "The Climate Policy Hub is ready to support this, from helping to secure investments required to make climate-smart actions take off all the way to implementation."
Together with national partners and development organisations, CIAT is preparing a number of climate change country profiles for Asia, which assesses a country's vulnerability to climate change, as well as the opportunities and capacity to adapt. The first few countries to be profiled are Viet Nam, the Philippines, Pakistan, Nepal, Bangladesh, and Bhutan.
The country profiles are expected to be completed by June. 
VNS