Polluted river water is the main reason behind the recent mass fish deaths in Vinh Tra River in Thai Binh Province, its department of natural resources and environment has said.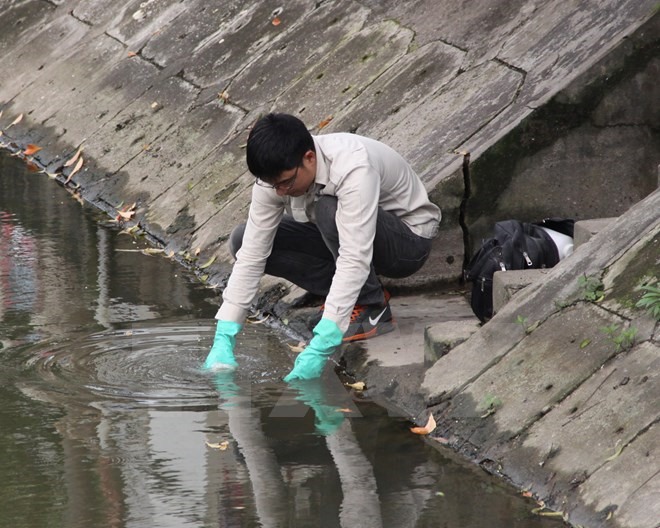 Officials from the provincial Environmental Monitoring Centre collecting samples of water to determine the cause of mass fish deaths in Vinh Tra River. 
The report that the department sent to the provincial People's Committee on Thursday morning states that the department and the local environmental police jointly inspected and collected samples of river water and the dead fish for tests.
Initial inspection revealed that most of the fish deaths have occurred on the stretch between Mua Bridge and Phuc Khanh Bridge on Bach River and the dead fish then drifted to Vinh Tra River, the report said.
Analysis showed that it is polluted water, not disease and illness, that killed the fishes. Specifically, the concentration of dissolved oxygen in wastewater discharged into the river by May Nien Hsing Co Ltd and Sheng Fang Co Ltd was found to be between 1.18 and 1.42 times lower than permissible level.
Also, wastewater from the Nguyen Duc Canh Industrial Zone was found to have chemical oxygen levels 2.47 to 2.6 times higher and coliform bacteria 2.8 to 2.93 times higher than allowed.
Following these results, the provincial agencies said that the river accepted a large amount of industrial wastewater and untreated wastewater from households living along the riverbank. All this polluted the water, and that along with changes in temperature, caused mass fish deaths.
To reduce the pollution in the city's water source, the department has asked the provincial People's Committee to re-examine wastewater treatment in industrial as well as residential areas.
It has asked the management boards of industrial zones to clarify the responsibilities of organisations and individuals in infrastructure management in the industrial zones, conduct sudden inspections on wastewater discharges of businesses in Phuc Khanh and Duc Canh industrial zones and Phong Phú industrial complex.
The department has also requested local residents to not dump garbage into the river and to clear the rubbish that is already in it.
On March 21 and 22, a large number of fish in Thai Binh City's Vinh Tra River were spotted dead. Besides, polluting the water and the surroundings, it resulted in a terrible stench emanating from the river.
Nguyen Hong Dien, chairman of the provincial People's Committee, had inspected the site and ordered concerned agencies to quickly determine the cause of the deaths. 
VNS