Water in a 10ha reservoir in Ba Ria - Vung Tau Province's Tan Hai Commune has turned red and terribly smelly, raising pollution concerns from local residents.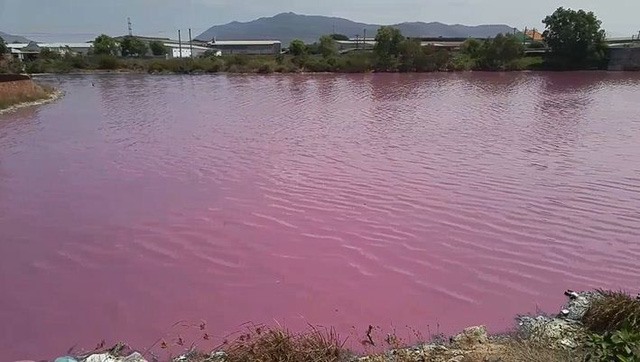 Many locals have blamed seafood processing factories for discharging untreated wastewater into the reservoir.
On Monday, a large quantity of red coloured water was seen flowing into the reservoir in Cat Hai Village, Tan Hai Commune.
The reservoir was built to contain water and prevent saline intrusion into agricultural land. However, local seafood processing factories have discharged untreated liquid waste into the reservoir and polluted the water environment.
Nguyen Long Trong, resident of Cat Hai Village, told dantri.com.vn that this was not the first time the situation occurred.
Earlier, polluted wastewater flowed through the drainage system into Cha Va River and caused mass fish deaths, affecting the livelihood of hundreds of farmers in the area.
The affected households decided to sue the seafood processing factories. Vung Tau City's People's Court is handling that case.
Nguyen Dung, deputy head of the sub-department of Environment Protection, said the sub-department has sent an inspection team to check three seafood processing enterprises of Trong Duc, Hoang Khang and Hoa Thang. 
The team concluded that Hoa Thang illegally discharged untreated water into the environment.
Dung said previously, there were 14 seafood processing enterprises in the commune, but most were forced to stop operation due to pollution and wastewater discharges.
He said the sub-department is completing the document to fine the violated enterprise and require it to stop operation.
In reply to the strange colour of the water, Dung said it was the colour of toxic algal. 
He added that the provincial People's Committee has chalked out a plan to clean the reservoir for local residents in the upcoming months. 
VNS