VietNamNet Bridge - Illegal logging continues even after the Prime Minister declared the closing of natural forests in June 2016.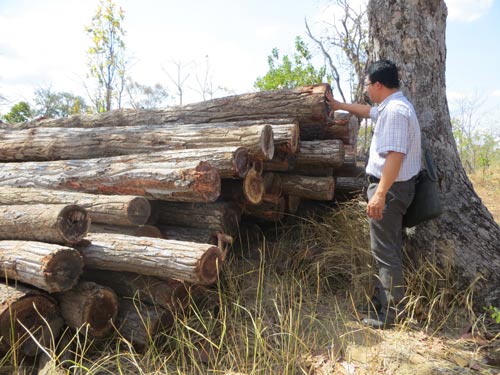 Prime Minister Nguyen Xuan Phuc, at a conference calling for investment in the Central Highlands on March 11, reaffirmed the decision to close natural forests.
"One year ago, I declared the closing of natural forests. Today, also in Dak Lak, I reaffirm the government's strong determination to protect forests," Phuc said.
Illegal logging continues even after the Prime Minister declared the closing of natural forests in June 2016.
In late February and early March, news and reports about the serious deforestation in Ea Sup district of Dak Lak province appeared in local newspapers.

Nguoi Lao Dong reported that just on an area of 1,000 square meters, 30 big trees were chopped down. The area was just 700 meters far from the Ea H'Mo Forestry Company's checkpoint station. 

Heaps of timber along the road were also seen right in front of the Ia Joi Commune People's Committee. This might be the place for illegal loggers to gather timber before it was carried away for sale. 

Truong Van Du, head of the Ea Sup district Forest Rangers' Unit, said the current conditions are favorable for illegal loggers to fell trees as the Central Highlands is in the dry season and there are different ways to intrude into forests.

"Local people have few work to do at this moment, so, they are willing to go to forests to cut trees as ordered by illegal timber traders," he said.

In Kon Tum province, the forest in Ward 365 put under the management of the Dak Ha Protective Forest Management Board is the 'hottest spot' of deforestation. A number of big trees were chopped down just days ago. 

Prior to that, on January 20, the Dong Bac Chu Pah Protective Forest Management Board discovered two men bringing timber from the mountain to Dak Po Kai Stream. Government agencies discovered two yards with about 30 cubic meters of timber left by illegal loggers.

People now await news from Quang Nam province. The provincial authorities have ordered appropriate agencies to conduct an investigation into the protective forest devastation in the two communes of Tra Son and Tra Giac in Bac Tra My district. 

Quang Nam has been a 'hot spot' in the central region in recent years with several cases of serious deforestation occurring yearly. 

Meanwhile, in Quang Tri, 350 deforestation cases have been discovered since 2016. 

Most recently, in mid-February, hundreds of precious logs of precious wood were found in Huong Hoa protective forest in Dak Rong district. However, government agencies still have not found the illegal loggers.
RELATED NEWS
Chinese businesses carry off precious medicinal herbs in Central Highlands
Chi Mai