While the government is spending billions of VND on projects to deal with worsening erosion at Cua Dai Beach in Hoi An Town, several companies have been caught taking advantage of the projects to illegally exploit sand.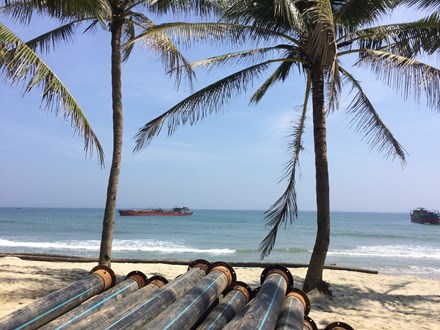 Dredging project at Cua Dai Beach
Former Party Secretary of Hoi An Town Nguyen Su and Vice Chairman of Quang Nam Province Le Tri Thanh recently participated in a ceremony to pray for the erosion to stop and the beach to be restored. 
Dozens of ships have appeared at the town recently as the authorities started the projects to build dykes and add more sand to the beach.
However, the ships that are supposed to add more sand to Cua Dai Beach are actually taking the sand away. 
They then sold the sand to sea encroachment projects in Danang City.
There has been severe erosion in Hoi An since 2013 with 20 hectares of Cua Dai beach having been washed away. A 300-metre-long section of the beach was eroded by late 2015. 
At a conference on Cua Dai Beach's erosion, foreign and local experts agreed that hydropower dams on the Vu Gia-Thu Bon River system might be hindering sedimentation downstream be and responsible for this severe erosion. 
The construction of resorts on the beach and the lack of proper environmental assessments before dredging occurred in the estuary have also worsened the situation. 
Le Tri Thanh said they started to build a temporary dyke for emergency cases in last November. 
The VND60bn (USD2.6m) dyke will weigh 300 tonnes, 20m long and 5m high. 
During this time, the Ministry of Transport also started a VND10bn dredging project at Thu Bon River to expand the waterway. 
The local authorities agreed to use the sand from Thu Bon River to create an artificial beach inside the temporary dyke.
Ships of various firms including Thanh Do, Son Thinh and Thuan Luu companies from Nam Dinh, Hai Phong and Hung Yen provinces were hired to carry out the projects. 
Taking advantages of the busy activities, those ships have been accused of stealing the sand to be sold to other projects in Danang City.
On March 4, the border guards in Quang Nam Province had caught four ships that were carrying sand to Danang. 
However, the ship owners denied the claims and said that they had got lost at sea.
Lao Dong Newspaper reported that the sand was sold to Da Phuoc-The Sunrise Bay urban area project. 
This project needs five million cubic metres of sand to fill in part of Danang Bay.
Pham Thanh Ty, director of Thanh Do Company, admitted to the illegal activities of the ships, but said that he didn't know and failed to monitor their activities. 
Further investigation shows that the ships actually belong to Tuan Sinh Company in Nam Dinh City.
Tuan Sinh Company had signed a VND60bn contract to dredge one million cubic metres of sand at Cua Dai Beach for Da Phuoc urban area project in Danang. 
According to the contract, the company promised to dredge 3,000 cubic metres of sand per day in the first two months of 2017 and 10,000 cubic metres from March to September.
There's no evidence to show that Tuan Sinh's sand is sourced legally.
On March 22, officials of Cua Dai Border Post and other agencies had a meeting to discuss the management over the dredging projects. 
About 15 ships are given permits to operate in the areas but only eight ships are working, seven ships have ended their contracts with the investors and have their permits withdrawn. 
However, Cua Dai Border Post wasn't informed about those ships. 
There are also shortcomings in the amount of dredged sand monitoring.
Dtinews