VietNamNet Bridge – Environmental services co-operatives have been operating for years in the northern province of Vinh Phuc, providing a cleaner living environment for residents.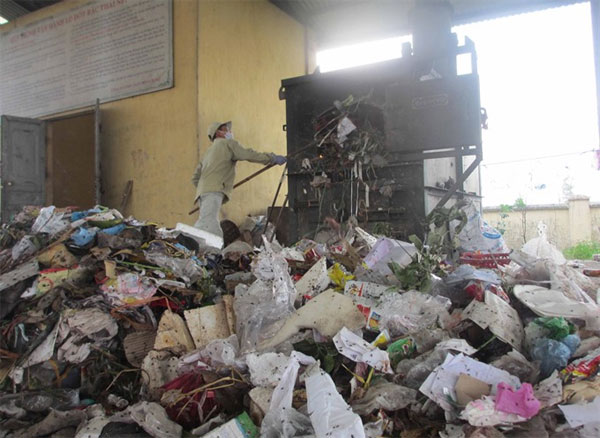 A worker puts solid waste into a waste burning kiln in Tho Tang Town, Vinh Tuong District in the northern province of Vinh Phuc. — Photo: VNA/VNS 
For example, in Binh Xuyen District's Tam Hop Commune, the Tam Hop Environment Service Co-operative, founded in 2014, is equipped with two incinerators with a burning capacity of 15 tonnes of waste daily.
According to Pham Van Chung, head of the Environment Office under the provincial Co-operative Alliances, the province now has over 200 environment service co-operatives that not only keep the environment green and clean, but also provide hundreds of jobs for local labourers.
The alliance is now co-operating with a French non-governmental organisation to run a project of waste management in rural area in 25 communes. The project supplies equipment and training for the co-operatives' workers in order to assist the communes to collect and treat waste in an effective and environmentally friendlyway, he said.
Tran Thi Trieu, a resident in Doi Chua Village, said that in the past, residents suffered strong smells because waste was only collected once a week. Since a co-operative was put into operation, "the environment we are living in is cleaner," she said.
The co-operative has 14 staff, including four engineers. Its incinerator has a daily capacity of 10 tonnes of waste, with the price equal to one fifth of an imported incinerator having the same capacity. It has sold 50 incinerators to surrounding areas, so far.
The Chairman of the People's Committee of the commune, Ta Van Phong, said there was no waste piled up at the commune causing unpleasant smells since the co-operative was set up.
Another well-run environmental service co-operative operates in Tho Tang Town of Vinh Tuong District. The Tho Tang Environment Service Co-operative, set up in 2009, collects about 15 tonnes of waste daily.
Nguyen Van Minh, deputy head of the co-operative, said it had more than 20 workers, divided into six groups collecting waste in six residential areas of the town. "Our workers come to the smallest alleys to collect waste so that our every road and alley are kept clean," he said.
Le Van Long, chairman of the town's People's Committee, said it was often difficult to collect all the waste discharged in the town daily before the co-operative was established. "At the end of the day, waste would pile up in many places, especially markets and roads," he said. That had completely changed now, he added.
The Hoang Lau Environment Service Co-operative has been running since 2010 in Tam Duong District's Hoang Lau Commune. It was designed to gather five tonnes of waste each day, helping the commune clean its environment under the Government's programme of building new rural area.
Nguyen Kim Xuyen, head of the co-operative, said it equipped 20 garbage trucks for waste collecting in 12 residential areas every two days.
VNS