VietNamNet Bridge - Despite many regulations favoring energy-saving construction, Vietnam still has few green buildings.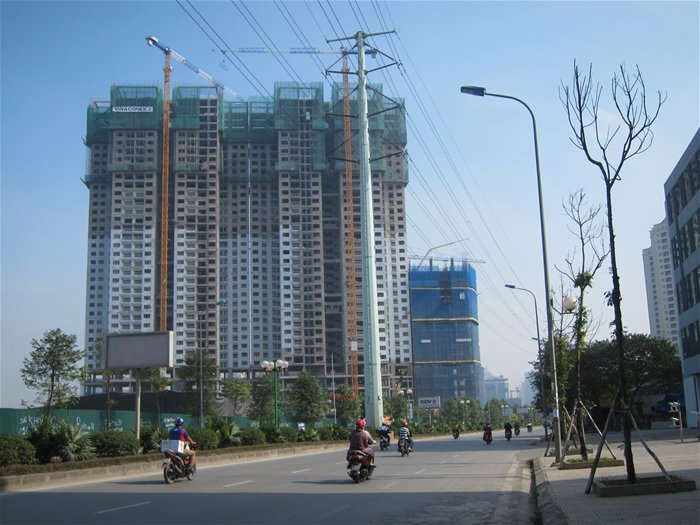 The rapid development of the middle-class, which uses air-conditioners regularly, is a major reason behind the increasingly high electricity consumption in large cities of Vietnam, according to EuroCham.
Tomaso Andreatta, chair of EuroCham's Green Growth Sector Committee, said designing buildings to restrict the volume of power to be consumed in the next 25 years is the preferred solution.
Thoi bao Kinh te Sai Gon quoted a source as saying that only 40 construction works in Vietnam have been certified as green, most of which are in the industrial sector. 
The electricity price is still low and enterprises still do not find it necessary to cut power consumption to reduce costs. 
The government has applied measures to heighten business and people's awareness of the importance of green works and reduce energy consumption and emissions.
Decision No 567 stipulates that 30-40 percent of unburned bricks will be used in construction works by 2020. 
Decision No 567 stipulates that 30-40 percent of unburned bricks will be used in construction works by 2020. 
Instruction No 10 and Circular No 09 stipulate that 100 percent of state-funded works and construction works with nine or more storied must use over 50 percent of unburned materials. 
Meanwhile, Decree No 121 imposes a fine of VND20-30 million on violators.
However, according to EuroCham, the legal regulations still cannot be implemented effectively.
The national standards which include international standards and Vietnamese criteria have not been applied on a large scale, while investors are not forced to follow standards to be granted construction permits.
However, state management agencies noted that more and more building owners have heard about green structures and regulations on green works in the last two to three years. More than 100 works have applied for green building certificates in Vietnam.
EuroCham has proposed that the government encourage construction work owners to apply for green work certificates. 
There are several kinds of international certificates used in Vietnam, including Leadership in Energy and Environmental Design (LEED) of the U.S. Green Building Council (USGBC) and EDGE of IFC.  
Vietnam also has similar certificates, such as Lotus of VGBC (Vietnam Green Building Council).
Some experts have suggested that Electricity of Vietnam should apply an electricity price framework which encourages the saving of electricity by offering low prices to power-saving works and setting high prices for buildings with a high consumption level.
RELATED NEWS
Vietnam needs to apply reasonable policies to develop green works
More and more green construction works come out
Kim Chi